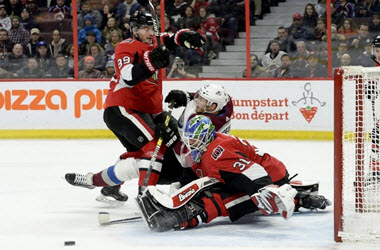 As the Ottawa Senators took to the ice last night against the Colorado Avalanche, it was Matt Duchene, who recently became a father, who was anxious for a win with his father attending, and the results could not have been better as the Sens went on to win 5-2.
This was the first game back for Duchene, who was given time off while he and his wife welcomed their first son. The nerves were far more than just being his first game back, it was also his first time playing against the Colorado Avalanche after his former team traded him to the Ottawa Senators in November.
For Duchene, the night was special, and his focus was on trying to fit back into the lineup and pick up on what the team had been doing on the road. Duchene added,
"They had been playing so well. We had some huge efforts from everybody. Nilsson was outstanding, Pageau's line did a really good job against their top line and I thought top to bottom we were outstanding."
Duchene scored twice last night, and one could say one was for his newly arrived son and the other in tribute to his father. Also scoring last night was Ryan Dzingel, Mark Stone and Brady Tkachuk. Anders Nilsson stopped thirty shots, and Cody Ceci, Thomas Chabot, Zack Smith, Chris Tiernney and Ryan Dzingel earned assists.
Sportsnet
The Avalanches Nathan MacKinnon and Nikita Zadorov scored for Colorado. Semyon Varlamov had 26 saves for the night, and assists were handed to MacKinnon, Mikko Rantanen and Tyson Barrie.
Colorado, who were finishing their last game on their current road trip, produced only one win and recorded four losses. Head coach, Jared Bednar called the trip disappointing adding,
"It's a disappointing road trip because I thought we started it playing some good hockey and didn't get rewarded. I didn't like our game in Montreal, really liked it in Toronto and not ready to play Wednesday."
Both the Sens and the Avalanche went into last night's game with the league's worst records. Ottawa, since the beginning of December, has recorded six wins, twelve losses and Colorado produced six wins, eleven losses. For punters and sports betting sites, those results do not show favour for either team, but with the Toronto Maple Leafs and the Calgary Flames near the top of the league, newly registered members with Sports Interaction, a favourite among Canadians, will enjoy generous signup bonuses when making a first deposit.
While Ottawa may have struggled since December, they have managed to come on strong in their last four games winning three of those, and with Thomas Chabot and Matt Duchene back in the lineup, things should improve. Chabot had been out for several weeks with an injury to the upper body, and as far as coach Guy Boucher is concerned, he commented that having him back is what will see results adding,
"A guy like that makes plays that can win games. Even when he doesn't have a goal or a point, it's the minutes he plays, the neutral zone transitions, play in the offensive zone, momentum, you can't measure his impact. That's why when you lose a guy like that it's gigantic."
The Senators were up 3-1 halfway through the third period when Duchene made it 4-1 after he picked up a Zack Smith shot that went wide. Duchene, in post-game interviews, said he plays his best when happy and light adding,
"This week has been the best week of my life and I think it's just been so special and that light heartedness helped me out."
Colorado managed to cut the deficit with just over a minute remaining in the second and with four minutes to go in the third, scored their second, but were unable to match Ottawa's speed. They missed several other opportunities and had one goal waved off after the net came off its moorings. Thereafter, it was all Ottawa, and for Chabot, he felt good stating,
"I think as the game went on I felt better and better. It always feels good to get the first one out of the way and I'm excited to hit the road."
Ottawa heads out on a two game road trip with stops in Carolina and St. Louis before returning home on the 22nd to welcome the Arizona Coyotes. Colorado is off until Friday when they will host the Los Angeles Kings.