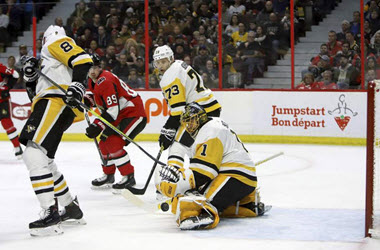 The Ottawa Senators rolled into Pittsburgh on Saturday night on a mission, and it was one they pulled off during overtime action to edge out the Penguins 2-1. It was a win Ottawa desperatly needed as they push to improve after a dismal start to the season.
At the end of the third period, the Sens and Penguins were tied 1-1, but it was Evgeni Malkin's push to score that defined the loss for Pittsburgh after Malkin made a bad line change during overtime. That led to the Ottawa Senators going on the power play, and with 3:40 remaining, Ryan Dzingel scored to give Ottawa a 2-1 victory over Pittsburgh.
For punters, that is good news, especially those who are fans on the Ottawa Senators, who currently are sitting near the bottom of the Atlantic Division. With the season approaching the holidays, oddsmakers are not favouring the Sens, not the Penguins, but sports betting sites such as Spin Palace Sports still have excellent NHL promotions in place, and with up to $200 available in signup bonuses, an excellent opportunity exists.
The Pittsburgh Penguins came into the game on a two game winning streak, and after dropping four out of their last ten, three of which were in overtime and another during a shootout, the Penguins need to re-evaluate.
The lead up to the penalty saw Crosby in the defensive zone as Jake Guentzel went to the bench, Malkin made the mistake thinking he was ok to jump onto the ice but left the bench too soon and earned a penalty for too many players on the ice. Malkin commented that,
"It's my fault, I think I jumped a little bit early, but I see Sid has the puck. I tried to jump and have a breakaway. Probably I needed to wait one more second."
Sportsnet
After going back and forth, and with overtime coming to a close, the power play saw Ryan Dzingel take a cross-shot from Mark Stone and send it past Casey DeSmith. Mike Sullivan, the Penguins coach, felt the frustration saying,
"It's frustrating because we don't want to put ourselves in that position, and I know Geno doesn't want to put us in that position. I think he's anxious to get on the ice, but we've got to show a little bit more discipline there."
The Penguins had multiple penalties last night, and it was a problem that saw Pittsburgh getting five compared the Sens one penalty. Whether this is discipline issues or officials not paying attention, clearly the result saw Pittsburgh captain Sidney Crosby feeling frustrated.
"We did a lot of good things, but you can't expect to win games, especially close games, putting yourself in that position time and time again."
Malkin was not sharing the sediment adding that he felt they played a better game. Continuing, Malkin said,
"It's crazy how many times we played on the PK. I think we played a better game. Forty minutes, we played in the offensive zone, and they had five power plays, and we had two. I don't know. How many times high-stick against Sid? It's a dangerous penalty."
This is a game Pittsburgh should have won considering they dominated the Senators for of the game. They outmanoeuvred and outshot Ottawa 85-43 but only were able to score once out of the 37 scoring opportunities they failed to capitalize on.
Thomas Chabot scored the Sens first goal and earned an assist, Mark Stone and Ryan Dzingal also earned assists for the Sens. The Penguins, who are sitting in 20th overall in the NHL, and 7th in the Eastern Division, next play against the New York Islanders, and what is clear is that they need to figure out what's missing.