Ottawa Redblacks Upset Argonauts – Record First Win
After leading the Redblacks with 144 receiving yards, Jaelon Acklin added a touchdown reception to give the Ottawa Redblacks a 23-13 win over the Toronto Argonauts at BMO Field on Sunday.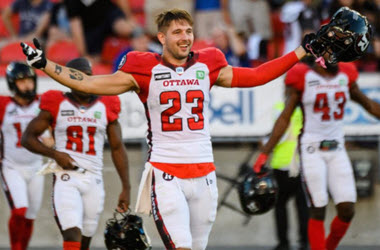 The Ottawa Redblacks, who has yet to record their first win of the 2022 CFL season, felt it wouldn't be long before they added a win to the CFL standings column.
"Well it certainly breaks that 'well, you haven't won a game yet, right?' said Redblacks coach Paul LaPolice. We're happy to get a win and happy to survive for 24 hours and enjoy it."
The Redblacks, who were without their starting quarterback Jeremiah Masoli, chose Caleb Evans to assume the role. Evens managed to throw 286 yards, completed 24 of 29 passing attempts and had two touchdowns.
However, the win for Ottawa came when receiver Jaelon Acklin scored a touchdown after leading his team with 144 receiving yards. That saw the Redblacks improving their record for the season to one and six and improving their chances for a playoff berth in the CFL East Division.
"It feels like we got a monkey off our back because we were so close, said Acklin. I think five of those games came down to the last few minutes."
Ottawa got onto the scoreboard on Sunday after Caleb Evens connected a 46-yard pass to Jaelon Acklin. However, after failing to score a touchdown, kicker Lewis Ward was called in and scored a 45-yard field goal.
At 7:20 in the first quarter, Toronto's Boris Bede tied the game with a 42-yard field goal. However, with 00:36 to go in the first, the Redblacks reclaimed the lead with a 31-yard field goal to close the first with a 6-3 lead.
The back and forth continued into the second quarter, with Toronto Argonauts responding in kind with the first touchdown of the game. That came at 7:35 in the second when Toronto QB McLeod Bethel-Thompson connected with Brandon Banks for a 29-yard touchdown pass. That gave Toronto a 10-6 lead after Boris Bede was successful with his field goal attempted, and Bede extended that lead to 13-6 with another 32-yard field goal 55 seconds before the end of the second.
It wasn't long after halftime that Evans moved Ottawa downfield before sending a pass to Acklin for a 30-yard touchdown. The extra point scored by Lewis Ward put the Redblacks, and Ottawa tied at 13-13.
"That helped us get a bit of a spark," Evans said. After that we felt like we've got to come out and keep our foot on the gas."
This was the third consecutive game that Acklin has passed 100 receiving yards. The CFL's leader in receiving yards is now sitting at 687 yards, 37 receptions and two touchdowns. The Redblacks reclaimed their lead and continued their push during the third quarter with another 3 pointer by Ward.
Unfortunately, Toronto's hopes of a comeback quickly evaporated in the fourth after defensive lineman Wynton McManis was handed an objectionable conduct penalty after he threw the shoe of a Redblacks player while defending deep in Toronto's territory.
The short field position allows Caleb Evans to send a seven-yard TD pass to Nate Behar, which was followed by Lewis Ward converting another field goal to put the Redblacks at 23-13 over the Argonauts. To add to Toronto's woes, defensive back Chris Edwards was given an objectionable conduct penalty for this actions after Nate Behar's touchdown.
"We've got to find a way to police ourselves, said Argos head coach Ryan Dinwiddie. The only way I know how to fix it sometimes is that sometimes someone's got to go. When things don't go our way we act like children and have temper tantrums and then we let our teammates down."
After the TD by Behar, Toronto was unable to recover, in part due to their offense plagued with overthrown or dropped passes. Commenting, Bethel-Thompson said, "We had those four balls, and that's a 34-20 win and it's not even close."
The Redblacks are next scheduled to take on the Stampeders on Friday August 5th, while the Argonauts will visit Hamilton to take on the Tiger Cats on Saturday, August 6th. For bettors, it could be a turn-around moment for the Redblacks and a perfect opportunity to punts with CFL-friendly bookmakers like Betway Sports, Betonline.AG and Bodog.