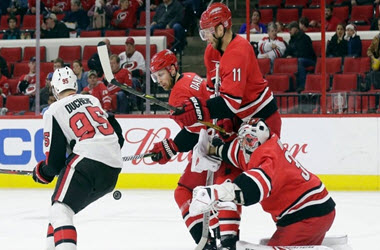 The losses continue to pile up for the Ottawa Senators after losing in overtime to the Carolina Hurricanes, after leading in the second period on Sunday afternoon in Raleigh, North Carolina.
Carolina's Justin Williams ended the 4-4 tie seven minutes and 34 seconds into the overtime period to put Carolina up 5-4, and nearly scored again but was denied by Andres Nilsson, who replaced came on Marcus Hogberg in the second period.
Also scoring for the Carolina Hurricanes was Justin Faulk, Brock McGinn, Dougie Hamilton and Jaccob Slavin. Assists were earned by Faulk, McGinn, Sebastian Aho, Teuvo Teravainen, and Victor Rask who each earned one apiece.
Williams commented that it was easy to mentally park the second period ending adding,
"Mrazek came in and said 'that was on me' and we instantly said 'No, no, no. You've had our back all the time, so it's time for us to pick you up', and that's what teams do, they pick each other up. They don't let someone stew about it and we had a great third period and won the game."
Sportsnet
After shortening Carolina's 3-1 deficit during second period and breathing life in Ottawa, the Hurricanes responded with one of their own only to watch Ottawa take one back with less than a minute remaining in the second and then tie the game less than 7 seconds later.
The third period went scoreless and Ottawa's blistering performance in the last seconds of the second period forced the game into overtime, but for the Senators, who hoped to end their losing streak, it was not to be after Jean-Gabriel Pageau put the Hurricanes up 5-4 for the win.
The continued struggles are dampening the outlook for Ottawa, not only with fans but also sportsbooks who set odds. However, with three Canadian teams sitting in the top 10, punters will find favourable odds at top betting sites such as Sports Interaction, and with up to $200 available in registration bonuses, the season has plenty to offer. Pageau, who was playing his first game back since April, commented that the period was fast with shorter than expected shifts adding,
"It's hard to prepare at this level and it doesn't matter how hard you work out, it's totally different when you come into a game like that. Right off the bat I tried to get myself in the game. I take pride in playing for the Sens and playing this game at home after everything I've gone through since the first day of camp. It means a lot to me."
Carolina had a blistering start to the game scoring two goals in under five minutes putting Ottawa on notice and scurrying to try to get into the game. Justin Faulk scored first for the Hurricanes just past the first minute mark, and a shorthanded goal by McGinn made it 2-0. The continued struggles of Ottawa is not being put past Chris Tierney, who stated they the team is not doing enough little things that help create wins. He added,
" We didn't start well and that hurt us. It just seems like every night it's something else and we need to figure out a way to get everything going at once to win in this league."
The Carolina Hurricanes next head out for a one game road trip against the New York Rangers on Wednesday before returning home to welcome the Ottawa Senator on Friday. Ottawa will welcome the Colorado Avalanche on Wednesday.