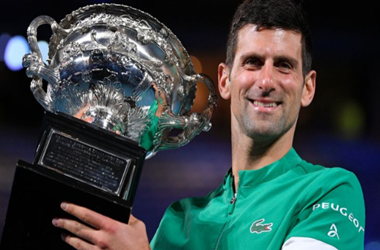 After a troubling start to the Australian Open due to infections and mass quarantine of players and support staff, Novak Djokovic can look back and be grateful things ended as he had hoped – winning his 9th Australian Open and his 18th Slam title.
The worlds No.1 tennis player, Djokovic looked like he might not go the distance after suffering a torn abdominal muscle during the third round. Yet, in classic Djokovic style, the Serbian overcame continued his push towards winning his ninth Australian Open title, a feat no other player has accomplished.
With his usual combination of blistering serves and control of the baseline, Djokovic was relentless in the final against No. 4 seeded Daniil Medvedev winning three back-to-back sets. The bottom line, Novak Djokovic, dominated the Russian winning the first, second and third set (7-5, 6-2, 6-2). The win was Djokovic's 18th Grand Slam title and his ninth Australian Open title.
The beat-down against Daniil Medvedev was not what fans or oddsmakers expected, considering he had won his last twenty matches. However, simply put,  Novak Djokovic served better and played the baseline better and, at one point, won 11 of 13 games. Post-match, Djokovic responded to media questions relating to the tournament and his eventual win. Commenting, Djokovic said,
"Definitely, emotionally, the most challenging Grand Slam that I ever had, with everything that was happening — injury, off-the-court stuff, quarantines. A roller-coaster ride."
ESPN
Heading into the final, the No.1 seed was still nursing his injured abdominal muscle and was unsure if he would have to forfeit the match altogether. The extent of his injury was seen mid-match when Djokovic was seen removing tape from his stomach.
"I was quite worried, I did not (think) realistically that I could actually play. I didn't know until two hours before the fourth-round match."
Djokovic, who has six out of the last ten majors, said the pain was bearable. He will retain his No.1 rank with the win and extend his time as the No.1 seeded men's player to 311 weeks. Yet, from all accounts, the Serb won't be giving up the top spot anytime soon.
Djokovic stated post-match that his goals are to continue to win more Grand Slams. To date, on top of his nine Australian Open Grand Slams, he has amassed one French Open grand slam, U.S. Open grand slams and five Wimbledon Grand Slams. Considering his success, the odds are definitely in his favour to add to those.
"I do enjoy the success every single time even more, because I know that the longer the time passes, the more difficult it's going to become."
Sunday's Grand Slam was only Daniil Medvedev second, with the first being coming in 2019 at the U.S. Open. The Russian had been on a blistering pace and has won his last twelve matches, all of which were against top ten rivals. However, he hit a roadblock when up against Djokovic, who Medvedev recognized in his post-match comments stating,
"He's really good (at) reading an opponent's game, knowing what you will do next, how to beat you."
Medvedev felt the same frustration many before him have experienced when up against Djokovic. Players like Roger Federer, Rafael Nadal, Stan Wawrinka, Andy Murray, and Dominic Thiem all have succumbed to the Serbian at Melbourne Park. At one point, Medvedev looked up into the stadium with his palms open at his coach in frustration.
After the start of the Open was delayed by three weeks due to the coronavirus pandemic, many playing had mixed emotions after fans were blocked from attending the tournament's first five days. Speaking on the lead-up and the issue organizing the tournament, Djokovic said,
"There are a lot of mixed feelings about what has happened in the last month or so with tennis players coming to Australia, but I think when we draw a line at the end, it was a successful tournament for the organizers."
The pandemic is still wreaking havoc amongst event organizers after it was announced that New York Open would be cancelled next week. However, the good news for punters is the tennis season is unaffected and will next head to the Rio Open in Rio de Janeiro in Brazil. Even moreso, punters have their pick when it comes to Canadian friendly sportsbook offers courtesy of the hundreds in sign up bonuses available.
For now, the 2021 schedule looks unchanged and will see the next few months playing host to a large number of ATP 250, ATP 500 and ATP 1000 events. The only question that remains is Whether Djokovic can win his nineteenth Grand Slam in May when the tour arrives in Paris – time will tell.