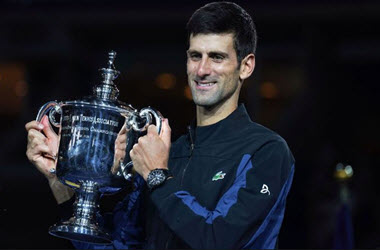 The men's U.S. Open final looked to be out of Novak Djokovic after losing three back-to-back games on. His frustration evident by his actions at his team, himself and the crowd on hand who were there in support of Juan Martin del Potro.
That frustration changed after a 22 point epic game that lasted twenty minutes. A game that saw Juan del Potro three times being in a position of winning the set only to see Novak Djokovic seize the game and win the set.
It was only a year ago that Djokovic missed the U.S. Open due to an injury to his elbow that eventually required surgery. Triumphant upon his return, Djokovic showed the world of tennis he is back and playing his best tennis. His defensive skills were the finest, and the result saw the No.3 ranked player win his fourteenth Grand Slam title in three sets (6-3, 7-6 4, 6-3).
When speaking to reporters about having faith that he could return to this level of tennis, Djokovic said,
"There was always part of me that imagined and believed and hoped that I can get back to the desired level of tennis very soon, but at the same time, life showed me that it takes time for good things, it takes time to really build them, for things to fall into place, so you can centre yourself, balance yourself and thrive. The last two months have been terrific."
Sunday's win was his third championship title at Flushing Meadows. His first came in 2011, and he earned his second in 2015. Joining his list of Grand Slam achievements, Djokovic has won the Australian Open six times, the French Open once and Wimbledon four times. He ties Pete Sampras for third overall major wins and trails only Rafael Nadal's, who has 17, and Roger Federer, who has 20.
U.S. Open
This was a U.S. Open that saw both Nadal and Federer failing to make the final. Nadal lost in the semifinals to del Potro and Federer failed to advance beyond the fourth round stunning many who expected him to advance.
This was del Potro's first final at a Grand Slam in nine years. Ranked No.4 in the world, he was considered a breakout player but has undergone multiple operations to his wrists. However, since his comeback, his success continue to pile up. Speaking on del Portro, Djokovic said,
"I believe he'll be here again with the champion's trophy. I really do."
Del Potro mentioned this week that his low point came in 2015 and it saw him considering retiring from the sport. However, with support from family, friends and fans, he soldiered on and climbed the world ranks, in part from sheer determination, in part his powerful serve and forehand.
Many have felt the power behind del Potro's serve and forehand, but it seemed not to have the same impact against Djokovic who was there with an answer every time. The reality is Djokovic played better and that came through in the many lengthy volleys that the two battled through.
Commenting, del Potro said,
"I was playing almost at the limit, all the time, looking for winners with my forehands, backhands, and I couldn't make it, because Novak was there every time."
That was evident in the second set when Djokovic 4-2 and serving. It saw the two going back and forth, saw eight aces served and multiple break points, that was until del Potro sent one into the net. Del Potro took high-risk shots with hopes of forcing Djokovic into an errors but failed to produce the results.
When it came to an end, it was Djokovic winning in three sets. In celebration, he tossed his racket, dropped down and embraced the moment and achievement. Del Potro and Djokovic met at the net, shook hands and shared a moment that would leave you to believe they are as much foes and they are friends.