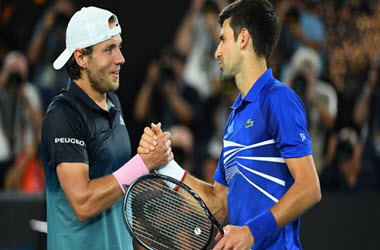 Novak Djokovic was anything but quiet on the court as he put himself in position to take control of his semifinal match against the less experienced Lucas Pouille on Friday. The result put him closer to earning another Australian Open championship.
Djokovic execution was nothing short of flawless as he drove hard line balls, aces and brutal backhands ending Lucas Pouille hopes of making the finals in just over 90 minutes downing the No. 28 ranked French player 6-0, 6-2, 6-2.
The Serbian only had an unprecedented five unforced errors last night and showed the world why he is No 1, and his efforts not pit him against his rival, 2 Rafael Nadal. The two have a long established history having played against each other 52 times in their respective careers – and on Sunday, it will be their 53rd.
Djokovic commented after the match, which was played at the Rod Laver Arena that,
"I would definitely want to buy a ticket for that match, for those who haven't yet."
There are only two players in tennis that has more titles than Novak Djokovic. Roger Federer, who was upset in the third round by Stefanos Tsitsipas, has 20, and Rafael Nadal has 17. Djokovic is hoping to build on his recent Grand Slam success after winning the U.S Open and Wimbledon last year.
ESPN
The Serb heads into the finals with 27 wins against 25 losses to Nadal, a slight advantage, and for bookmakers, that is a tough one to call. Currently, Sports Interaction, a leading sportsbook for Canadian punters, puts Djokovic slightly ahead of Nadal at 1.71 against 2.05.
They last met in the Australian Open finals in 2012 and that match lasted over 5 hours making it one of the longest in history, it was one that Djokovic said was,
"Once-in-a-lifetime experience, and hopefully, the outcome can be the same for me."
And with the way the two are known for playing, especially currently, the final could be another legendary final that fans will talk about for years to come. Nadal was on top of his game eliminating Tsitsipas 6-2, 6-4, 6-0 and has not once dropped a set this tournament.
The same is true about Djokovic who made quick work of Pouille, which was his first career semifinal at a Grand Slam tournaments. The win improved Djokovic performance in semifinal matches in Melbourne to 7-0. He won twenty-five of thirty-four points on second serves, and it was 30 minutes into the match before Pouille won a game.
Djokovic was pleased with his performance calling it,
"Definitely one of the best matches I ever had on this court."
For Djokovic, it is a positive step forward when compared to last year's Australian Open when he went out in the fourth round due to problems with his elbow. That ultimately led to him having surgery to resolve the issue.
Nadal and Djokovic will face off in the finals on Sunday night in Melbourne, and it is expected to be a hotly fought battle for both who hope to leave the court with another Grand Slam title.