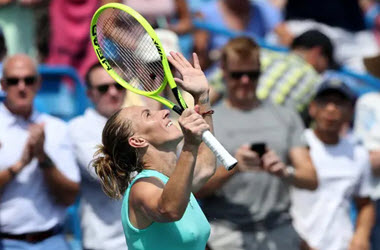 The Western & Southern Open semifinals were Ashleigh Barty chance to once again jump into the No. 2 spot. However, it wasn't to be, and after a week of ups and downs, Barty lost 6-2, 6-4 to Svetlana Kuznetsova in the semifinals on Saturday.
Another top seeded player, Novak Djokovic, also experienced an upset after giving up the first set in his semifinal match against Daniil Medvedev. While he came on strong to win the second, it was Medvedev who controlled the third, and with it, advance to the finals on Sunday.
The week has been unkind to both Ashleigh Barty and Djokovic, both of whom are top seeded players, and with the U.S. Open around the corner, the results were not favourable for either. Commenting on the week, Barty said,
"A week that we battled through," Barty said. "I think at times I played some good stuff. At times, I played some pretty awful stuff."
Ashleigh Barty held the coveted No.1 spot for seven weeks but saw it go to Naomi Osaka. Barty needed to win the semifinal to regain the top position, but instead, she lost her third consecutive first set and was unable to pull herself out.
Barty is the defending women's champion at the U.S. Open, and many are now questioning is she is good enough to retain that title. Another top seeded women's player, Naomi Osaka exited the tournament and forfeited in her semifinal due to knee issues but still is panning on playing the U.S. Open. Serena Williams, another expected at the U.S. Open is tentative after she retired from the Rogers Cup finals due to back spasm issues.
WTA
Kuznetsova was on top of her game right from the get-go not giving Barty any opportunities. Those efforts put in her second final of the year, a positive step after being on the sidelines with a knee injury for seven months. Cincinnati was her ninth tournament this year, and her first semifinal win since 2017. Commenting, Kuznetsova said,
"Well, sometimes in life it's like this. It's like really small things change everything. Definitely it's different momentum I have now."
Svetlana Kuznetsova will now face off against Madison Keys after she earned her place in the final with a 7-5, 6-4 victory over Sofia Kenin. That victory saw Kuznetsova serving fourteen aces and bring an end to her failure to male beyond the second round in the last three tournaments she has played. Commenting on the achievement, Kuznetsova said,
"I feel really good, Every day I'm kind of waking up, hoping that everything still feels like it's in one piece and it feels really good."
In men's tennis, Novak Djokovic, who had doubts over his elbow, was unable to get the upper hand over Daniil Medvedev. The Russian player was tracked sending 128 mph serves, and it proved too much for Djokovic, who was the defending champion. Speaking to the media post-match, Djokovic stated,
"I see mostly positives in my game. Today I did lose a match, but I didn't do too much wrong. I lost to a player who was playing amazing."
Medvedev has been on a solid run in his last two tournaments. He made the finals in Montreal at the Rogers Cup but lost to Rafael Nadal, and now he finds himself back fighting for a title win. He will enter the finals to face David Goffin, who defeated Richard Gasquet in two sets. It will be Gasquet's first finals in a Masters 1000 event. Speaking on his match against Gasquet, Goffin said,
"Of course, it was a tough period there. I was coming back from injuries. I had some trouble with my confidence. I couldn't find my rhythm, my game. So it's great now. I'm feeling great. I'm back at my best tennis."