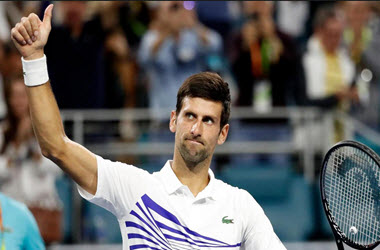 Novak Djokovic may have lost his temper in his match against Federico Delbonis but not the match after pulling a ball out of his pocket and angrily sending it towards the backstop and then driving his racket into the concrete.
The show of emotion came after Djokovic gave up the lead in the second set and ultimately lost it 4-6. However, with the first set his, he recovered his emotions for the third set dominating Delbonis 6-1 to win the third round match.
After the first set and half of the second, it appeared that Novak Djokovic would stroll to victory without much of a challenge from Delbonis. However, after twice dropping service back-to-back in the second set, he watched his 3-1 lead disappear. He then was faced with long rallies in the third but managed to win the final five games. Commenting on the match, Djokovic said,
"We were very close in the beginning of the third set. It could have gone a different way."
Djokovic, ranked no.1 in the world, is hoping to win his 7th Miami Open title, and the first at the Dolphins' complex, which is the Miami Open's new home. Djokovic will play Roberto Bautista Agut, in the fourth round. Djokovic, pleased with his performance commented that,
"I'm hitting the ball well. I just need a little more consistency to hold that level of play the entire match."
The crowds at the new venue were festive and out in force but with a somewhat subdued atmosphere as stands were only fifty percent full in a stadium that usually houses the Miami Dolphins. Djokovic noted,
"It's a unique stadium in tennis. It's obviously different from anything we've experienced before. It's not a tennis venue. We're guests here of the Miami Dolphins."
ATP Tour
Also on the men's side, John Isner, who won the Miami Open last year, managed to defeat Albert Ramos-Vinolas in two sets (7-5, 7-6) after being broken in opening game of the first set. Isner, who is 33, last year won his biggest career title will next face 19th seeded Kyle Edmund. Edmund advanced after he succeeded in defeating Milos Raonic 6-4, 6-4.
In women's action at the Miami Open, Tatjana Maria upset Sloane Stephens, Miami Open defending champion, 6-3, 6-2. Daria Kasatkina lost 6-3, 6-1 to three time Miami Open champion Venus Williams, who will make her 16th performance in the fourth round in Miami. Williams gave up service four times but managed to win all return games. Commenting, Williams said,
"I've never had a match like that before in my life. There's always a time for a first. I'm returning really well."
Venus Williams won the Miami Open in 1998, 1999 and again in 2001. This is the first time she is playing at the Open as an unseeded player but appears upbeat, even smiling while on court, something she almost never does. Williams, who next will face Simona Halep, in post-match interviews stated,
"I never smile on the court, and this week I've smiled a lot. There's a lot to smile for. That's all I can say."
Action will see resume tomorrow as the round of 16 get underway. Sports punters should note the ATP season is in full swing and placing bets with leading ATP tennis sportsbooks is as easy as registering with one of our leading bookmakers. Signup today and qualify for generous newly registered player bonuses!