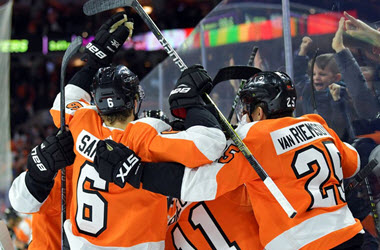 The Philadelphia Flyers are making quick work in coming back and making things count after registering their seventh back-to-back win in a row against the Edmonton Oilers last night in Philadelphia on Saturday night.
After the Edmonton Oilers went ahead 4-3 midway through the third, the Flyers took little time to tie it minutes later. With the rest of the period going scoreless, the two went into overtime and it was Nolan Patrick, who just over two minutes into overtime scored the winning goal to give the Philadelphia Flyers victory over the Oilers and earn their seventh in a row.
Claude Giroux earned two assists and scored one goal last night for the Philadelphia Flyers. Sean Couturier and Wayne Simmonds each scored one as did Travis Konecny. Jakub Voracek earned three assists, Shayne Gostisbehere, Oskar Lindblom, Travis Senheim and James van Riemsdyk earned assists while Carter Hart had 40 saves on 44 shots.
Edmonton's Zack Kassian also scored for the Flyers as did Connor McDavid, Adam Larsson and Ty Rattie and Kassan, McDavid earned assists as did Kevin Gravel, Jujhar Khaira and Milan Lucic. For sports bettors, and Flyer fans, Sports Interaction is the perfect place to put your skills to the test after the watching Philly overcome early season struggles.
Philadelphia had been struggling earlier in the season and were becoming known for coming back late in games only to fail to get the job done when going into overtime, or if in a shootout situation. However, it seems that door has closed as last night was the fourth that came back from behind of late. Commenting on their recent success, Carter Hart said,
"That just goes to show how guys are invested right now and how much we're willing to pay the price to succeed. Guys are going all out right now and we want to keep this thing rolling. It's been a lot of fun and we're going to do everything we can to keep things rolling."
Sportsnet
The Oilers, who outplayed the Flyers for the first two periods, have now lost their last four games. However, were unable to defend against Philadelphia's power play, and that was what, in the end, cost them the game after the Flyers scored four power play goals. Commenting, head coach Scott Gordon said,
"There's been a lot of games where we haven't scored when we probably should have scored. Obviously, tonight was one of those nights where it went in for us. We made some changes and they've been positive so far, so a little bit has been personnel just shuffling the deck as far as who's going to go where and how they're going to be used. And this was a great job by the power-play guys," he said.
Sean Couturier, who earned his 20th of the season, marked the second season in a row of doing so. In his six seasons playing in the NHL, he has scored at least 14 goals and his goal tonight game after a power slap shot. Commenting, Couturier said,
"We won the game tonight on effort, not on talent. I think if we play like that more, we're going to win more games."
The Philadelphia Flyers, who will play their next four games at home, next welcome the Vancouver Canucks on Monday, the L.A Kings on Thursday. Anaheim on Sunday and the Penguins on Monday the 11th.