NHL Reported To Have Given Mailloux Approval To Play For Canadiens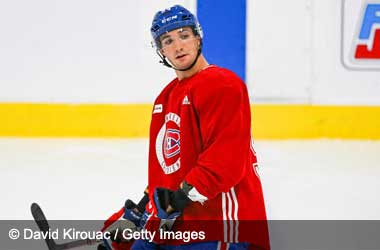 Summary:
Exciting young prospect Logan Mailloux allegedly cleared to play for Canadiens
Mailloux was kept on the sidelines after sharing an explicit sexual photo of a woman without gaining her consent
Mailloux went through therapy and the NHL's Respect and Consent Program
NHL team the Montreal Canadiens took a chance by drafting Logan Mailloux even when the 20 year old stated that he did not want anyone to pick him as he did not demonstrate strong enough character or maturity based on his actions.
What Did Logan Mailloux Do?
Logan Mailloux got himself in trouble with the NHL after reports surfaced that the 20 year old had shared an explicit sexual photo of an unknown woman with his teammates. The woman in question did not give her permission for the picture to be shared.
However, ex-Canadiens GM Marc Bergevin decided to go ahead and pick Mailloux with a first round pick. The Canadiens consider Mailloux to be one of their top 5 prospects and were willing to risk drafting him and wait for the NHL to give approval.
After the Canadiens drafted him, the NHL remained firm on their stance stating that Mailloux was not cleared to play in the league, just like Mitchell Miller who signed as a defenseman with the Boston Bruins. Miller was cut from the Bruins soon after he was signed once reports surfaced that he had racially abused a classmate that was developmentally disabled.
Logan Mailloux Cleared To Play For Canadiens
Renaud Lavoie from TVA Sports and NHL Network posted on Aug 22 that multiple sources had stated that the NHL had cleared Mailloux and he will be able to represent the Canadiens soon, putting an end to all the rumours concerning his future with the Canadiens.
Mailloux did apologize for his actions when it came to light and entered therapy in 2020 to fix his behavioural issues. He also went through the Respect and Consent Program offered by the NHL.
Kent Hughes, GM for the Canadiens has backed Mailloux stating that the Canadiens operating staff and team members gained a better appreciation for Mailloux as a person after he spent a decent part of the summer around the team. Hughes said Mailloux was fully aware of the impact of his actions and is now looking to bring about positive change and the Canadiens will support him!