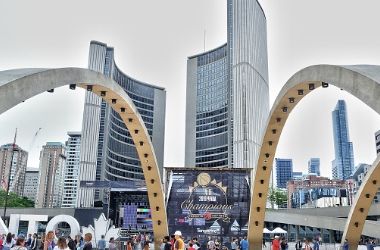 Canada is a hockey country and we all know that to be true – but even with that being the case, it feels like there's something of a small uprising that is taking place within other sports in the nation. As reported by BBC, the Toronto Raptors were able to capture their first NBA Championship recently, which is obviously going to lead many to believe that the face of basketball in Canada is set to change pretty dramatically.
In fact, as reported by CBC, that belief is shared by Raptors general manager Masai Ujiri.
Here we go again
"Shanny [Leafs' president Brendan Shanahan] is my boy and so is [Leafs' general manager] Kyle [Dubas], but I really do think so [that basketball could eventually replace hockey as the top sport in Canada]," Ujiri said.
"The way basketball is growing around the world. I do think we're lucky that in a place like Canada that there is room for baseball, there is room for basketball, there is room for hockey, there is room for soccer."
On the opposite end of the spectrum, though, NHL Commissioner Gary Bettman made the following comment regarding the matter.
"I didn't hear Masai say that. I'd be surprised. We have seven franchises in Canada. It's great for the Raptors that after 24 years they had a great run and they should be congratulated on that," Bettman told Pizzo.
Pushing the limits
"But the NBA in Canada has had mixed results. It didn't work out so well in Vancouver. I think time will tell, but I think when people think about the heart and soul of Canada, they think about hockey."
It's not really as simple as agreeing with one party and disagreeing with the other, but when push comes to shove, Bettman is right – to an extent. We do believe it's going to take a long time before basketball is discussed in the same manner as baseball is within the Great White North, and there's nothing wrong with admitting that. A bit of healthy competition should always serve as a great motivator for people, even when it comes to sports as big as these ones.
For us, we just want to see the best product possible from both sports. That may sound like a bit too much to ask, but if this 'rivalry' is going to help both push themselves to the limit, then we're all for it.
Basketball is a fantastic sport and hockey is a fantastic sport, and, yeah, that's it, really. We wish there was more to it than that, but at the moment, it just feels a little bit playful and manufactured. When both have a few more years of 'evidence' so to speak within Canada, then we'll have more to discuss on it all. As it is, though, it's all speculation. The Raptors may have brought a title back to Toronto, but that can't replace years and years of history within the country. Well, not right now, anyway, but maybe in the future, it can.