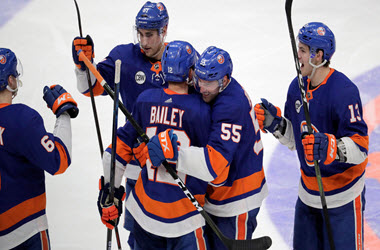 As the Pittsburgh Penguins rolled into Uniondale, New York for Game 1 for round one of the Eastern Conference, there was little time to think what lay ahead, only time to get on with the job at hand. Unfortunately, for Pittsburgh, the job didn't go as planned.
After the Pittsburgh Penguins tied it 3-3 with 90 seconds remaining in the third, the two went into overtime, and there was little to think about for Josh Bailey as he and Matthew Barzal went on a two on one rush. Bailey came in behind Barzal, scooted across the crease and sent a backhand shot past Matt Murray to give New York a game 1 victory.
The goal came at 4:39 of the overtime period on Wednesday night and ended with the Islanders taking a 1-0 lead in the best of seven series. Commenting, Bailey said,
"It just happened so quick. I wasn't sure. It didn't lay very flat for me. I was just trying to whack it and hope it went in… A crucial game. There's still a long way to go, but a good win for us."
After going into the defensive zone, Barzal faked in front of Murray and fired a backhand shot that rebounded off his pads, but with Bailey coming in with him, his lost opportunity was a golden one for Bailey and one he was able to complete. Speaking on the play, Barzal said,
"I see the puck laying there and I was just obviously (angry), I thought the chance had ended, and I see Bails come in and swoop in and bury it. I was obviously super happy to see that. Awesome for him. First game and that's nice for the confidence."
Sportsnet
Jordan Eberle scored and earned an assist last night, and Nick Leddy and Brock Nelson both scored. Devon Toews, Adam Pelech, Anders Lee, Leo Komarov, Vaitteri Filppula and Matthew Barzal earned assists, while Robin Lehner made 41 saves.
Game 2 will get underway at Nassau Coliseum in New York on Friday. Punters interested in placing bets on the series between the Islanders and Penguins will find generous signup bonuses being offers by Sports Interaction, a leading online sportsbook for Canadians.
Phil Kessel and Evgeni Malkin and Phil Kessel scored for Pittsburgh with assists going to Kessel and Malkin both. Justin Shultz, Brian Dumoulin, Kris Letang and Dominik Simon also earned assists while Matt Murray stopped 29 of 33 shots. Speaking on game 1 of the series, Mike Sullivan, coach of the Pittsburgh Penguins said,
"It was a hard-fought game. It wasn't perfect out there by any stretch, but I thought we played hard."
Tom Kuhnhackl has scored in the first minute of the opening period, but the goal was waved off for being offside, and he nearly scored in the first minute of overtime but fell as, and as the puck crossed the creased, he crashed into Matt Murray. That caused the net to come loose, and after video review, the goal was not counted. New York clearly were the dominant team last night leading three times throughout before Pittsburgh manage the late third period tying goal. Commenting, Coach Barry Trotz said,
"We just stayed to it, I liked our composure on the bench. There were a lot of twists and turns to that game. … (We) didn't flinch at all."
The crowds were in full swing last night in support of the New York Islanders and were often heard chanting "Let's Go Islanders!" and that began the minute New York hit the ice for the warm up. It continued throughout the game and bolstered the morale of the Islanders into what became a happy ending. Whether they will be able to keep up that moment will be seen as the series plays out.