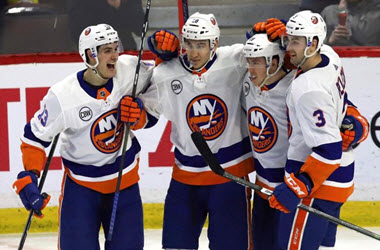 The New York Islanders are now sitting atop the Metropolitan Division after defeating the Ottawa Senators in a two game back-to-back win streak last night in Ottawa.
Valtteri Filppula made a big contribution towards helping the New York Islanders with that accomplishment last night scoring two of their four goals as New York went on to defeat Ottawa 4-2 and topping the Washington Capitals in the Metropolitan Division.
Last night was the second game in a back-to-back game series that saw New York winning the first of those on Tuesday 5-4 after going scoreless in overtime and winning during the shootout. Valtteri Filppula feels, even though the Islanders won, they could play better. Commenting, Filppula said,
"I think we can play better. At the same time, we have to give them a lot of credit. They played well, played hard and hard to play against and made a lot of plays, but two wins, that's the main thing and hopefully we can keep going and build on this."
Anthony Beauvillier and Casey Cizikas also scored for New York, Matthew Barzal, Leo Komarov, Tom Kuhnhacki, Nick Leddy and Adam Pelech earned assists, and Thomas Greiss had 35 saves. Ottawa now sits at the bottom of the division and for punters placing real money sports bets with the likes of regulated and respected bookmakers like Bodog, that news is not seen favourably.
Sportsnet
Ottawa's Oscar Lindberg and Brady Tkachuk scored for the Senators, Anthony Duclair, Brian Gibbons, Ben Harpur and Bobby Ryan earned assists, and Anders Nilsson had 27 saves for the night. Mark Borowiecki commenting post-game on teammates and time stated,
"I thought that was one of our most complete efforts in terms of time and players. I don't think we had any passengers out there. We were working hard and did a lot of good things, but got beat by a good hockey club."
The second period proved a challenge for New York after taking a 2-0 lead only to watch as Ottawa tie the game with goals from Lindberg and Tkachuk. That was noted by Casey Cizikas, who stated,
"Those are periods that can't happen, especially at this time of the year. We want to create an identity and we want to play the way that we know how to be successful and when we get away from that we're an ugly team."
As the third period got underway, New York caught a break approaching the midway mark when Anthony Beauvillier shoved in a Zack Smith pass to Anders Nilsson that didn't go as planned to give the Islanders a 3-2 lead. Casey Cizikas made it 4-2 in the final minute to seal the victory for New York. Commenting Cizikas said,
"We had a little talk between the second and third. We weren't happy with that second period, and we wanted to come out the way that we knew how to play. I thought we did a good job of that all four lines and all six defencemen and Greiss gave us some big saves."
Ottawa went into the second period down by two but reduced that lead to one after Oscar Lindberg put the puck past Thomas Greiss, his second since joining the Senators after being traded by the Vegas Knights. It was a much needed boost for Ottawa, who dominated the second period but unable to take the lead after tying it thanks to the goal by Brady Tkachuk and outshooting New York 17-10. The loss for Ottawa means they have lost all three matchups this year against the Islanders.