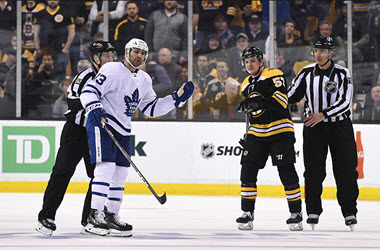 Toronto Maple Leaf Nazem Kadri has a meeting with the NHL Player Safety Department on Friday and saw them handing him his fourth NHL suspension, this time for three games. This comes at a crucial time for the Leafs as they face off against the Boston Bruins in the first round of the playoffs.
Game 1 saw Kadri saw hit Wingels from behind after he felt the officials failed to make a call against Wingels for a hit to the head against Marnier. The result saw Kadri handed a five-minute major penalty and a game misconduct. The hit saw Wingels leaving the ice and not returning.
Yesterday's suspension is Nazem Kadri's fourth in nine years of playing in the NHL. In 2013 he was handed a three-game suspension for an incident with Niklas Backstrom, in 2015 he was suspended for four games for a hit to the head of Matt Fraser and another in 2016 for cross-checking Luke Glendening.
After the game, Kadri was questioned about the boarding call and said,
"Initially, I felt like he made contact with Mitch Marner's head and I didn't see a call there. He was turned up the wall, so I was committed to the hit and he ended up falling. It happened quick and he was reaching for the puck. I don't think I stuck my leg or arm out."
Kadri also was asked about the pending meeting with NHL Player Safety and if he was worried that he may be handed a suspension. Kadri replied that the matter was no longer in his hands saying,
"I certainly wasn't trying to hit him when he was down like that. I was already committed to the hit. If he's still standing up, there's nothing wrong with that."
Toronto Maple Leafs
The suspension of Kadri does not help the Leafs as they now have to shuffle the lines and find a replacement. However, Toronto were without Kadri earlier in the year due to injuries, and that saw Babcock replacing Kadri with Patrick Marleau. However, in January, Babcock shuffled the lines in what saw Marleau go to the checking line and he has been successful on that line.
The Leafs play Boston tonight at 8 pm in Boston, so it will be interesting to see who replaces Kadri and how the other lines are affected. One thing is certain is that many Leaf fans and hockey betting sites will be worried and this could impact the odds for Toronto in tonight's game.
However, Kadri was not present for practice on Friday and Marleau was back in the center position with Marier and Hyman during practice, so from all accounts, Babcock is going with Patrick Marleau as Kadri's replacement. The change also saw Komarov moving to Auston Matthews, and Nylanders line and Komarov was replaced by Andreas Johnsson joining Kasperi Kapanen and Tomas Plekanec on the fourth line.
Interestingly enough, Babcock chose not to move up Tomáš Plekanec, who the Leafs acquired in a trade to help have some help come playoff time with the centre spot. For Babcock, it is most likely a trust issue as to why he chose Marleau after Tomáš Plekanec failed to impress in game one going only 11.76% in faceoffs.
No matter how one looks at it, Toronto has a strong alternative in Plekanec, a player capable of scoring thirty goal season. Game 1 saw the line of Marchand, Bergeron and Pastrnak earning six points and with Boston controlling the puck almost 80% in the game, the Leafs had a hard enough time with Kadri, let alone without him.