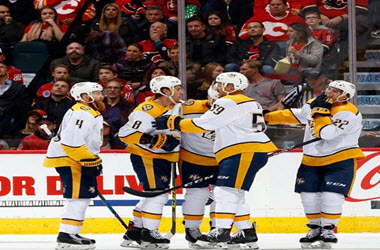 The Nashville Predators arrived in Calgary Friday to take on the Calgary Flames to win the first of two on the road. Zac Rinaldo scored his first of the season, and game winner as the Predators walked away victorious over the Flames 5-3 last night at the Scotiabank Saddledome.
Calgary's Ryan Johansen needed only 52 seconds to put Nashville on the board after Nashville went deep into the Calgary zone and caught goalie Mike Smith off guard. The remainder of the first went scoreless until with 1.17 remaining, Calgary came on strong to tie the game 1-1 after Elias Lindholm put one past Pekka Rinne.
The second period was back and forth melee as Nashville's Craig Smith made it 2-1 early in the second period, Matthew Tkachuk tied it for Calgary at the 13 minute mark, and Nashville's Kevin Fiala made it 3-1 to end the period.
The Calgary Flames once again tied it 3-3 after Sam Bennett found himself in front of the crease, but the hopes of a win stopped there as the Predators responded Zac Rinaldo and Filip Fosberg both scored one each to end the third period 5-3 for Nashville.
Nashvilles Kevin Fiala, Filip Fosberg, Kyle Turris and Ryan Ellis each earned assists, as did Calgary's Mark Giordano, Elias Lindholm, Johnny Gaudreau, Derek Ryan and Michael Stone.
Sportsnet
Calgary now heads on the road for a two game road trip arriving in New York to take on the Rangers on Saturday, and the Montreal Canadians on Tuesday. The Nashville Predators next play the Edmonton Oilers on Saturday night to wrap up their two game road trip.
Bettors wanting to join the action will find many top-rated NHL betting sites such as Bodog offering good odds and signup bonuses, and with the NHL season just underway, now is a good time to register and maximise your bets.
Pekka Rhine ended up leaving the game after stretching to make a save and then having Kevin Fiala collide that looked awkward. After heading to the bench and consulting with training staff, Juuse Saros was sent in to replace him.
Saros did an excellent job, and it took seconds for Calgary to test him in which he saved a blistering shot from Elias Lindholm from the faceoff in the Predators zone. Saros has nine saves for the night, while Rinne had fifteen. Calgary's Mike Smith stopped twenty-five shots and now has a season record of three wins and three losses.