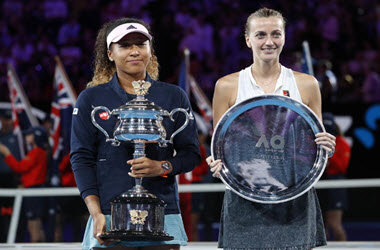 The Women's final at this year's Australian Open was close to being a lost cause for Naomi Osaka after giving up three points and the lead, a sizeable one. That was until she turned it around and regained her focus.
Naomi Osaka, took a strong lead winning the first set 7-6 and started strong with a commanding lead in the second only to watch it falter away and going to Petra Kvitova 5-7. The result saw a frustrated Osaka yelling at herself, slamming the ball and quickly heading to the locker room after the second set.
However, on her return, Osaka it seemed had regrouped, refocused and came out once again with assertive play to win the third set 6-4 and claiming her second Grand Slam Title. The win will put Osaka in the No. 1 rank for women in the world, and her skill was not lost on Kvitova who said,
"Amazing achievement," two-time Wimbledon champion. Definitely she is a great one. We'll see what the future will bring."
Osaka's first Grand Slam win came at last year at the U.S. Open finals against Serena Williams. It was one that saw controversy and drama after the umpire docked Williams a game for arguing with the umpire.
Australian Open TV
However, on Saturday, there was no drama, or crowds yelling out support in attempts to put Osaka off her game as they did at the U.S. Open. Naomi Osaka is a bright star for tennis and, at 21, now has two Grand Slam titles and went from 72nd in the world to first inside of a year – pretty impressive.
That win almost didn't happen after Osaka gave up three match points in the second set and ultimately lost the set as a result of allowing her tender young age and experience to get in the way of remaining focused. That allowed Kvitova to suddenly become a contender to win after seemingly looking like a loss was in the cards.
The third set saw Osaka recovering her wits and settling in to focus on the task at hand. Kvitova double-faulted a break point, and after a blistering cross-court backhand, she took control of the third set. Osaka's coach, Sascha Bajin, commented that,
"I knew that Petra couldn't keep it up for that long if Naomi could just manage those emotions and she did that beautifully."
Born in Japan, Osaka, whose father is American, moved at the age of three to New York. Based in Florida, and with dual citizenship, she is the first tennis player with Japanese roots to win a Grand Slam title. She is also one of the youngest with only Caroline Wozniacki achieving that fate at a slightly younger age.
This was also the first Grand Slam title match for Kvitova since 2014 and her first since being attacked in her home by an intruder in 2015. That attack saw her lose almost five months due to surgery and recovery in what many thought was going to bring an end to her career. The fact she overcame those challenges were not lost on Osaka who commented during the awards presentation,
"You've been through so much. I'm really honoured to have played you in the final of a Grand Slam."
The day was cloudy keeping temperatures sitting at 25 Celsius. Both Osaka and Kvitova hit the ball with powerful serves and returns with exchanges mostly being played at the baseline and that saw returns barely making it over the net and kept both women on their toes.
Yet, it was the younger Osaka who pulled ahead and set the tone after she snapped an end to a tiebreaker then went on to win the next five points going ahead 5-1 in the first set. After leading the second set 3-2, Osaka lost her focus and watched in frustration after Kvitova took the set, but as the last point came in the third set, it was all Osaka.
Osaka's efforts earned her a $4.1 million payday at this years Australian Open, and that does not include the other amounts earned for advancing through the first, second, third and fourth rounds. Kvitova may have failed in winning her 23rd Grand Slam title, but her $2,050,000 payday is sure to give her reason to celebrate.