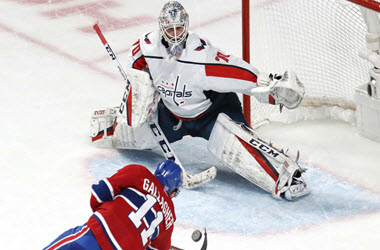 The fate of the Montreal Canadiens is now no longer theirs to decide after losing to the Washington Capitals on Thursday night, at least for now.
The Montreal Canadiens failed to get the job done and with it watched their hopes of going to the playoffs dwindle as they only one game remaining in the regular season. The win however for Washington was an important one as it secured their position as champion of the Metropolitan Division title.
Montreal's Shea Weber scored its only goal with assists going to Joel Armia, and Phillip Danault and Carey Price managed to stop 29 of 31 shots. Montreal came on strong in their last few games and even succeeded in coming away with wins against other division leaders. They came into last night's game behind the Columbus Blue Jackets, who together have been battling in hopes of earning the last wild card in the Atlantic division.
The Blue Jackets, based on points, appear most likely to earn the final spot after the Carolina Hurricanes secured one of the two after they defeated the New Jersey Devils on Thursday night. In the event that Columbus wins against the Rangers on Friday, the Canadiens will be eliminated. Their regulation last game will be against the Toronto Maple Leafs on Saturday for what may also be their last home game of the season. Commenting, coach Claude Julien said,
"Hopefully we're still alive after tomorrow night and give ourselves a chance to stay in the race. I don't sweat too much over things I can't control. So we'll wait and see."
Sportsnet
Washington's Nic Dowd and Lars Eller each scored last night. Andre Burakovsky, Brett Connolly and Carl Hagelin earned assists, and Braden Holtby stopped 34 shots. The win also saw Washington winning their fourth back-to-back division title, and after they sealed their fifth straight playoff appearance last week, Washington will head into the playoffs having five of six. In three of those wins, the Caps only allowed in one goal and that only against a team desperate to increase its playoff chances. Commenting, Braden Holtby said,
"I think we did the right things at the right time. If we were under duress in our end, at least someone came up with a big play, flip it out or something. Live to fight another day. At the blue lines we were a lot better, a lot like we need to be in the playoffs and I thought the guys had a high-level commitment to winning."
Each of the goals last night by Washington came as a result of a turnover by Montreal. The first saw Eller while in front of the net after Hagelin took control of the puck deep in Montreal's end and sent it to Brett Connolly who then passed it to Eller. Shea Weber managed to tie the game in less than a minute, but that was quickly smashed after Nic Dowd, a mere three minutes later scored to give Washington the 2-1 advantage. This will be the first year Dowd has been with Washington and his first time with the franchise on the post-season, and it was he who scored such an important goal without realizing it. Commenting, Dowd said,
"I guess I don't think about it as those two individual things, but as a whole this season's been great. Obviously a great group of guys, and I've learned a lot coming to a new organization. It's a real privilege to be a part of it, and I'm excited for playoffs."
The Washington Capitals will play their last regulation game on Friday against the New York Islanders. For punters, Montreal's lacklustre season has not been favourable to Hab fans, however, with the post-season yet to be announced, it is safe to suggest that sportsbooks such as Bodog are sure to favour the Capitals, and with generous signup bonuses, it is an ideal time to register and claim your bonus.