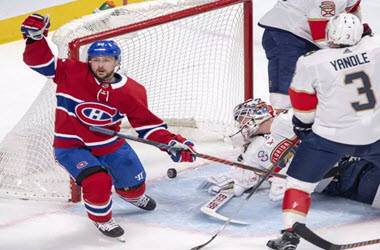 The Montreal Canadiens seem to be on their game as the regular season winds down and it now that is most matters as only five games remaining.
Montreal is managing to stay in contention for a playoff spot after their victory over the Florida Panthers on Tuesday night. The Canadiens have won their last four games and last nights 6-1 win was a huge boost as far as Andrew Shaw is concerned. Shaw added, in a post-game interview,
"It's huge right now. It just shows we're a character team. We're working hard, we're competing. We're going to earn our own spot in the playoffs and not rely on someone winning or losing."
The Montreal Canadiens are currently in a race for the playoffs with the Columbus Blue Jackets and the Carolina Hurricanes. Montreal sits in sits at 41-28-8 and behind Carolina by one point for the second wild card spot but are ahead of Columbus by two points. That is important information for post-season punters wishing to gather stats in preparation for placing bets in the playoffs. There are multiple top-tiered sportsbooks such as Bodog offering excellent odds in advance of the post-season and will reward newly registered punters with up to $200 in signup bonuses.
Sportsnet
The Montreal Canadiens and Blue Jackets will meet on Thursday. It will be an important game for both teams as each point is needed if they hope to oust Carolina. Commenting, Canadiens defencemen Brett Kulak said,
"The last few weeks now, we've known the importance of every game. We've got a little momentum rolling here and it gives you a boost of energy when you can come out and score early and everyone's feeling good like that. We've really settled into our identities as a team. Everyone knows their role and everyone's playing their role really well. That just builds confidence."
Montreal's Tomas Tatar scored two goals and earned an assist last night. Brett Kulak, Phillip Danault, Max Domi, and Artturi Lehkonen each scored one and Kulak, Shaw, Brendan Gallagher, Jesperi Kotkaniemi, Victor Mete, Jeff Petry, Jordan Weal and Shew Weber earned assists. The loss saw Florida being officially removed from playoff contention. Carey Price had 34 saves, and Florida's James Reimer had nine while relief goalie Samuel Montembeault had 18.
Tomas Tatar was first to score for Montreal after beating Reimer that was fed to him by Andrew Shaw. Montreal went up 2-0 at 12:59 of the first when Kulak scored his fifth of the season. Tatar scored his second several minutes later to make it 3-0 after shoving in a loose puck past the pads of Reimer.
After three goals, Reimer, who had been on the sidelines for the last month was pulled and replaced with Samuel Montembeault, who failed to do much better. Montreal went up 4-0 early in the second with a goal by Artturi Lehkonen and their fifth when Florida failed to cover a waiting Phillip Danault in front of the net. Florida is currently on a three game losing streak and have given up twenty goals in their last three games. Commenting on the continued poor performance, Vincent Trochek, who is the alternate captain for the Panthers, said,
"Five of their six goals, we just let them have as much time and as much room as they wanted in front of our net. It's just laziness, not doing your job. It's just unacceptable, leaving our goalies out to dry. To give up that many goals in the last three games is an absolute embarrassment."
Frank Vatrano scored Florida's only goal early in the third period while on a power play to make it 5-1. However, just past the midway mark of the third, Max Domi made it 6-1 for Montreal. Montreal's Paul Bryon exited the game after a fight with Mackenzie Weegar that saw Bryon dropped with an uppercut.
The Montreal Canadians will face the Columbus Blue Jackets on Thursday before vesting the Winnipeg Jets on Saturday. The Panthers will face Ottawa on Thursday and the Boston Bruins on Saturday.