Mitchell Hooper Wins 1st World's Strongest Man Title For Canada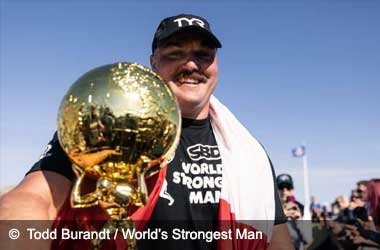 Summary
Mitchell Hooper wins his first World's Strongest Man Championship
This is the first time that a Canadian has won the World's Strongest Man Championship
It was only the second time that Hooper has taken part in the World's Strongest Man competition
The World's Strongest Man (WSM) competition takes place every year with live odds offered nearer the time. The strongest men from all over the world compete against each other in gruelling tasks and feats of strength to establish who the strongest man in the world really is. 
Some of the giants of the WSM include Poland's Mariusz Pudzianowski who has won 5 championships, Iceland's Magnús Ver Magnússon who has won 4 championships and Lithuanian Žydrūnas Savickas who has also won 4 championships.
First Canadian To Win WSM
Strongman Mitchell Hooper did Canada and his small community in Midhurst, Ontario proud when he ended up winning the 2023 WSM over the weekend and in doing so became the first Canadian to win the World's Strongest Man Championship.
This was an amazing feat for Mitchell 'The Moose' Hooper as this was only the second time that he has participated in the WSM. His first appearance was back in 2022 when he was selected as a last minute replacement and ended up finishing in 8th place. 
Brit Tom Stoltman who won the last two WSM championships was looking to make it three in a row and did well but Hooper dominated towards the end as he won 3 of the final 6 events to win. Stoltman had to settle for second place while Ukraine's Oleskii Novikov finished in 3rd place.
For those who follow strongman competitions, Hooper's performance at the 2023 WSM does not come as a surprise as he has been quite dominant in strongman competitions of late and odds at the time of the competition had him among the favourites. Some of the top competitions that that Ontario native has won recently include the 2023 Arnold Strongman Classic which took place in Ohio, The Giants Live World Tour Finals and the 2022 Arnold Strongman Classic UK.
Hooper Stays Humble About His Win
While Hooper was very happy to win his first ever WSM championship, he stayed very humble and thanked the strongman community and fans for the amazing support they have showed him.
In a statement, Hooper said
This is crazy, to be the first Canadian to win World's Strongest Man. I'm really grateful to be able to bring that back on the backs of some amazing Strongmen.