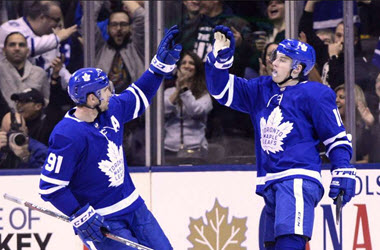 The Toronto Maple Leafs played host to the New York Rangers last night at the Scotiabank area. As the final buzzer sounded, it was the Maple Leafs coming away with their second victory in a row after defeating the Rangers 5-4.
Patrick Marleau score scored less than three minutes into the first period after Toronto shot the puck into the Rangers zone and won the battle for possession before sending it back to the New York Rangers blue line before the puck tapped off the stick Reilly ad past Alexander Georgiev to give Toronto a 1-0 lead.
The rest of the first period scoreless, it was until the last five minutes of the second period that the New York Rangers managed to tie the game 1-1 after Neal Pionk after a scuffle in front the Toronto's net.
The Toronto Maple Leafs respond early into the third with a goal by Mitch Marner to make it 2-1 for Toronto, and less than four minutes later, Andreas Johnsson found Morgan Reilly unguarded and rushing the net to put Toronto ahead 3-1.
Rounding out the third period saw Andreas Johansson scoring and Marner scoring on an open net to end the night 5-4 for Toronto, and with it, their second back-to-back win after defeating the Florida Panthers on Thursday.
The Leafs, who host the Detroit Red Wings on Sunday prior to the NHL's Christmas break, continue to remain in second place overall 6 points behind the Tampa Bay Lightning. Sports betting analysts continue to put Toronto at the top for a record run this season thanks for the speed and skill of its younger players like Matthews and Marner. This is good news for punters who often overlook the Maple Leafs, and it is especially good news for NHL sports betting sites such as Bodog, a favoured and Canadian homegrown sportsbook offering up to $200 when you register and make your first deposit.
Sportsnet
Morgan Reilly increased his season points total to 42 and sits atop the list of top scoring defensemen. The line change that saw Andreas Johnsson joining Reilly's line is proving successful with the Swed being pivotal in Reilly's goal last night. The Maple Leafs top line of Tavares, Matthews and Marner continue to produce results
The Rangers put up a strong battle and did not falter after tying the game multiple times only to see Toronto retake the lead, and that included a late third period goal that saw the two tied again only to see that vanish after New York once again lost the lead.
While Toronto continued their reign last night, they also made some sloppy plays missing several solid scoring opportunities. One came after Adam McQuaid was handed a four minute penalty for cross checking and holding, another when Matthews sent a shot wide while the Leafs had the man advantage failing once again to produce during a power play.