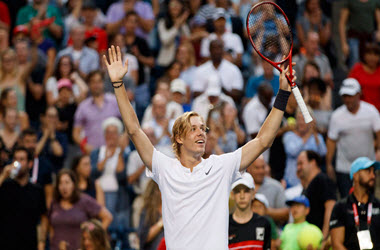 The disappointment was evident in the face of Denis Shapovalov after learning his match was moved to the grand stand from the centre court in his match against Fabio Fognini. As the match came to an end, it seems that switch was in his favour, and one he will remember as his young career develops.
While the venue was smaller, the crowd supporting the hometown favourite was anything but. It with that crowd behind him, one that persevered after a rain delay, Shapovalov defeated Fognini in two sets (6-3, 7-5) and advanced to the third round.
Shapovalov, a Richmond Hill, Ontario native, commented on the change of venue saying,
"I know how many friends wanted to come out today and how many fans were looking forward to seeing me on centre court this week. Unfortunately with the rain delay it got moved to the grand stand. It was a little disappointing in that sense."
While disappointed, Shapovalov said that the crowd in the grand stand helped him a lot adding,
"It was so ecstatic, it was so energetic because it's so compact and it actually bothered Fognini quite a bit, especially toward the end. So it really worked in my favour. I really enjoyed myself out there."
Shapovalov, in a tweet that was deleted after the move was announced, sarcastically said that he got moved to the grand stand. After winning the match, and questioned on the tweet, Shapovalov commented,
"The main purpose of the tweet was because I was disappointed, obviously not for myself, but because there was so many fans and friends that wanted to come watch me on centre court and they weren't able to."
Tennis TV
Wednesday's match saw Shapovalov serve nine aces and win eight-two percent of his serves. In less than an hour and 30 minutes, he managed three times to break Fognini. The Italian was anything but pleased shouting several times after Shapovalov broke his serve. However, Shapovalov doesn't speak Italian and Fognini's efforts were lost on him, Commenting, Shapovalov said,
"Honestly I'm not sure what he said. It was really loud and unfortunately I don't speak Italian yet so maybe you guys can roll it back in slow motion or something, but I just told him if he has a problem we can discuss it after. I just tried to stay focused."
Shapovalov, who is ranked 26th, faced Jeremy Chardy from France in round one in front of a packed house on Tuesday and won that match in straight sets. He will next face Robin Haase from the Netherlands on Thursday.
Milos Raonic, another top Canadian, saw his run at the Rogers Cup come to an end after suffering defeat against the United States' Frances Tiafoe in three sets. Delays also impacted that match after the heavy rain that hit the Toronto area.
Raonic, who originally is from Thornhill, Ontario, saw his match delayed during the second set while tied 3-3. After the delay and the match resumed play, Raonic came out strong to force a third set, but as the third set got underway, it appeared Raonic lost steam, lost serve two times costing him the set.
Commenting on the loss, Raonic said,
"I just played sort of the wrong way. I rushed a little bit on my serve, didn't take the time I needed and just became a little bit too predictable.
The third round of the Cop gets underway on Thursday, and with some top contenders in the field, the competition will be fierce. Should Shapovalov prove successful in the third round, he will move onto the quarter-finals on Friday. For tennis punters wanting to place bets on the quarter-finals, why not take a look at our recommended Tennis betting sportsbooks such as Betway Sports. New punters to Betway Sports will be entitled to claim a 100% match bonus up to $200, and with not only sports betting on tap at Betway, but you will also have access to a live casino, esports and a poker room. Register today and reap the rewards at Betway.