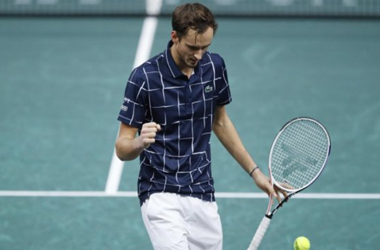 Canadian Milos Raonic failed in his bid to reach the Paris Masters finals on Saturday after losing to Daniil Medvedev in two sets after a match that saw big serves and multiple missed break point opportunities.
Raonic, who missed a second set tiebreaker, made multiple costly mistakes. After all, was said and done, Medvedev was 6-4, 7-6 and advanced to the finals and will now face Alexander Zverev in finals on Sunday. Zverev earned his spot in the finals after defeating Rafael Nadal 6-4, 7-5 in their semifinal match.
Raonic, who is from Thornhill, Ontario, and seeded 10th was attempting to make it to the Paris Masters finals after losing in 2014 to Novak Djokovic. After Medvedev pulled off a first set win, and was in a back and forth battle with Raonic in the second set. It was until after the 12th game in the second set that Raonic was able to win his fourth breakpoint in the match to tie the set. However, it was Medvedev who won the tiebreaker to seal the victory.
After the match, Raonic commented about Medvedev stating:
"I think in some key moments he found a way to be a bit more the aggressor. He was dictating a bit more, I was trying to change the pace up. He was a lot more efficient at creating his opportunities."
Rolex Paris Masters
Raonic outpaced the Russian with twelve aces to seven, and both were successful with about 80% of their first serves. Speaking to the media about the quality of tennis he played, Daniil Medvedev said,
"I don't think it was the best tennis I have played this year, but it was definitely one of the best matches. I was playing good in the beginning of the year, and then there was a stop (because of the pandemic)."
Meanwhile, Alexander Zverev pulled off the win over Rafael Nadal in their Paris Masters semifinal match to advance to the finals. This will be Zverev fourth chance at a Masters' title and 14th career title, while for Medvedev, it will be his third Masters' and eighth over career title. Commenting on the upcoming final, Zverev said,
"We're not going to give each other anything tomorrow and we'll see who can win. I'm looking forward to it. I think we are both extremely hungry, it will be our first title here."
The defeat in Paris was a tough one to swallow for Nadal. While the star player has earned 86 career titles, including a staggering35 Masters events and 20 Grand Slam events, his only final ever lost was in Paris, and it seems to be one that has followed him since.
Zverev scored his thirteenth ace at this years open in his opening serve against Nadal. However, he doubled faulted in the opening match and the second game when to Nadal after the Spaniard sent a blistering forehand return. After the match came to an end, while speaking to the media, Zverev said
"I have just beaten Rafal, so that is never easy to do. I think the whole world will agree with me on that."
Nadal, who dropped the opening set in his pervious two matches, did the same against Zverev. He was also only 605 on his first serve compared to Zverev's 78% success rate. Commenting, Nadal said,
"He's in the final serving huge. I think I returned better than the other days, but was impossible at the beginning. He was serving bombs and hitting the right spots all the time. So I decided to go eight meters behind the baseline later on in the match and I think worked better for me."
The Paris Masters final is scheduled for Sunday afternoon and is perfect for tennis punters hoping to score their own victory. With bookmakers like Spreads.ca offering lucrative sign up offers, the opportunity to gain an advantage with a stacked bankroll is excellent.