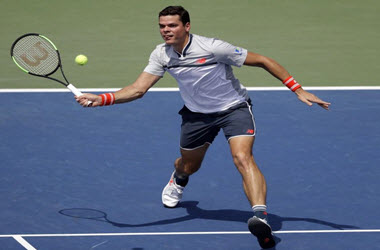 Milos Raonic was energised going into round two on Wednesday at the U.S. Open. Looking at the scorecard, it is clear that Raonic brought his "A" game as he set his sights on defeating Gilles Simon.
Raonic did exactly that eliminating Simon in three back-to-back sets. In his first round match against Carlos Berlocq, Raonic struggled with being consistent. However, that was not the case as the No. 25 seeded Canadian player won 6-3, 6-4 and 6-4 on what was a humid and hot day at Flushing Meadows. Commenting, Raonic, who is originally from Thornhill, Ont., said,
"Overall, I did things well and took care of my serve. I was a lot more disciplined with myself. I wasn't going up and down in the match like I did my previous one. Overall, I'm happy."
Raonic broke Simon's serve three times, served seventeen aces and improved his stats against Simon to 5-1. Three of those victories came on a hardcourt surface, and for tennis punters, this is important information to consider as the third round, quarter, and semifinals and finals come into play. Sports betting sites such as our recommended Canadian favourite, 888Sport, has favourable odds for the U.S. Open as third round action at Flushing Meadows gets underway.
In post-match interviews, Milos Raonic stated that Simon does an excellent job at putting you off your rhythm. He added that,
"He plays very slow, sort of gets you to slow down your intentions and will sort of surprise you by taking the ball early. So I was happy that I was able to, in those important moments, just, you know, be patient and sort of trust my legs that I would be able to hold on, just to keep that pressure on him."
US Open
The temperatures were almost 35 C, and like much of the U.S and Canada, New York is experiencing a heat wave. This has caused some performance issues for some players, but for Raonic, he doesn't see it as a disadvantage or advantage saying that you just have to deal with.
Raonic added that,
"It's nice to get by, and in an efficient manner today. Both guys have to start preparing for it, not the day before, two days before, as soon as this match finishes if it was the case for another match. So I think it's how you go about the things."
Raonic will now face Switzerland's Stan Wawrinka, the winner of the U.S. Open in 2016. Wawrinka has been having a solid year in 2018 having won nine of his last matches. Raonic has a poor track record against the Swiss player winning only once in the five times they have faced off.
However, Raonic has been strong and should not be counted out. Commenting on his upcoming match against Wawrinka, Raonic said,
"It's going to be good. I watched him play two matches last week. I watched him play a little bit of his match against Grigor Dimitrov on Monday. He's playing well again. He's moving well. He's doing his things, you know. He's stepping up. He's playing well in those big points. He's hitting the ball hard … He's effective with his backhand. It's going to be tough. I'm going to have to play well."
Whether Raonic will advance or Wawrinka is not an easy one to call as both are playing well. The two players are familiar with each other and surprises are not expected by either. Each resides in Monte Carlo and are after their first title playing on a hardcourt surface since 2016. Another interesting fact is both have achieved No. 3 world rankings only to watch as their ranking dropped – Raonic to 25th, Wawrinka to 33rd.