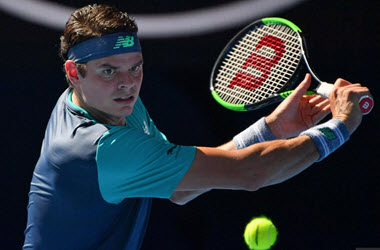 Milos Raonic has advanced to the quarterfinals at this year's Australian Open after defeating Alexander Zverev in three sets.
Milos Raonic had anything but an easy time at the Australian Open starting with an opening round against Nick Kyrgios and drawing Stan Wawrinka, a three time Grand Slam winner for the second round. Round three wasn't any easier after learning he was to play Alexander Zverev, all this just to make it to the final 16. Raonic managed to come out on top in all three matches defeating Zverev 6-1, 6-1, 7-6 to advance to the quarterfinals.
Raonic, a Thornhill, Ontario native faced a difficult path in his quest to win and now will face France's Lucas Pouille on Wednesday. The challenged didn't go unnoticed by Robert Bettauer, a tennis analyst who commented,
"Tough draws can go one of two ways. You can lose early and bow out or you can work your way through it and then you become very tough to beat in the tournament."
Melbourne was one that pushed the star Canadian, and that began in the first round after drawing Kyrgios, an Australian player who once ranked 13th. The crowd was clearly behind Kyrgios, but the Aussie did not prove much of a challenged to the No. 17 ranked Raonic.
Raonic then struggled to defeat Wawrinka in the second round taking more than four hours before earning the win, and then made quick work of Pierre-Hugues Herbert to advance to his showdown against Zverev.
Austrailian Open TV
Raonic, who has played Alexander Zverev multiple times in the past, was consistent against the German. Zverev struggled early in the match and was unable to recover and that was evident in the first and second set, both of which Raonic dominated.
The Canadian managed to serve fifteen aces and scored forty-five winners only giving up two games in the first and second sets. He sent his opening serve at 200 km/h and hit one that recorded a speed of 223 km/h. Bettauer, who coached the National team previously, noted that he believes Raonic has one of the best serves in the game adding,
"By that I mean the best combination of power, placement, spin, kick, all that. Over the years he has really improved his return of serve. He's got a great one-two combination with his serve and forehand when he runs around and pounds it. And he's improved his net game over the years and is prepared to finish more points. He's a force to be reckoned with. A very difficult player to play against when he's on his game. He doesn't give you much to work with and he's all over you."
Raonic will meet Lucas Pouille Wednesday afternoon at 3 pm at the Rod Laver area. Should Raonic advance, he could potentially face Novak Djokovic in the semifinals, and for tennis bettors, facing the No.1 seeded Djokovic will be an uphill battle for Raonic.
That possibility will not be lost with oddsmakers at leading sports betting sites such as Sports Interaction. Punters interested in placing bets on the Australian Open will find generous signup bonuses and regular sports betting promotions with the Canadian favoured sportsbook. Register today and take advantage of its new player bonuses.