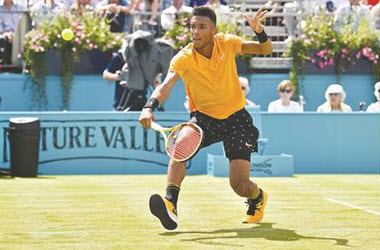 Felix Auger-Aliassime time at the Queen's Club Championships has returned one of his best career wins after the Canadian teenager upset Greece's No. 6 seeded Stefanos Tsitsipas during the quarterfinals on Friday.
Auger-Aliassime, ranked 21st in the world defeated Tsitsipas in two sets 7-5, 6-2. The win was the best in his career, and highest seeded player Auger-Aliassime has won against, not just once, but twice having beaten earlier this year the higher ranked Tsitsipas in Indian Wells, California.
Auger-Aliassime will now face Feliciano Lopez in the semifinals after he defeated Canadian no. 6 seeded Milos Raonic. Lopez, who is 37, won the 2017 Queen's Club, and currently ranked 113th, upset Raonic in three sets 4-6, 6-4, 7-6 earlier on Friday.
The difference in ages between Lopez and Auger-Aliassime will be one of the largest seen during a semifinal since 1977 when Pat Dupre (23) was defeated by Ken Rosewall (43) to advance to the finals at the Hong Kong Grand Prix.
Auger-Aliassime's win over Tsitsipas was his fifth against the Greek player since their days in the juniors. Commenting on the win, Auger-Alaissime said,
"Whenever I step on court with him, I believe I can win and that's obviously a big plus."
ATP Tour
Auger-Aliassime won 77% of his serves and came back from seven point break chances. The Canadian has gone three matches without being broken and held serve in thirty-eight games. Things are looking good that he will make it to the finals for the fourth time this season on the ATP Tour. Last week Auger-Aliassime made it to the finals at the Stuttgart Cup after defeating Matteo Berrettini in the semifinals, and his entry to the semifinals at the Queen's Club makes him the youngest semifinalist since 1999.
While the match between Auger-Aliassime and Stefanos Tsitsipas was not a close back and forth match, the Raonic-Lopez match was with Raonic winning 101 points and Lopez winning 99. It was the first tournament back for the Canadian after he retired with a back injury from Stuttgart.
Also making the semifinals was Daniil Medvedev, who recorded a three set victory over Diego Schwartzman. Medvedev will meet Gilles Simon, who defeated fellow Frenchman Nicolas Mahut in three sets (7-6 (5), 5-7, 7-6).
In other Queen's Cup news, Andy Murray, who is making his comeback after being absent for five-month due to hip surgery will pick up his doubles match this weekend after it was suspended due to it being too dark to continue on Friday.
Murry, who is a three-time Grand Slam champion and Feliciano Lopez had won the first set in their match against Britain's Ken Skupski and Daniel Evans but were behind in the second before the fading light brought a stop to the match.