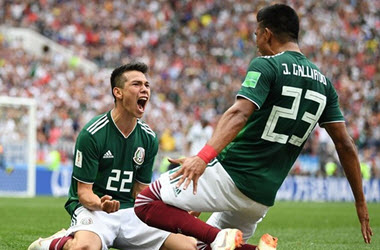 The Germans ranked #1 in the world, seem to have joined a list of top teams that seem to be having a hard time advancing beyond the group stage. Mexico was successful in exposing the Germans defence and was successful in a narrow 1-0 win over the Germans, and in doing so, have placed the German's chances of advancing in question.
While some may doubt their chances, not all share in that, especially Germany's coach, Joachim Loew. Commenting on the loss, Loew said,
"We will make it. There's no reason to fall apart because you lose one game."
Mexico's only goal came at thirty-five minutes into the match after Hirving Lozano picked up a pass from Javier Hernandez just inside the penalty area and sending a shot past Germany's goaltender, Manuel Neuer.
No one knew at the time that it would the winning and deciding goal. Speaking about the goal and what it meant to the Mexican team, Lozano said,
"I don't know if it's the biggest victory in Mexico's history, but one of the biggest for sure. My teammates and I did some great work. We all ran our hearts out. This is the result of all that hard work."
This year's World Cup has seen three defending champions failing to make it to the knock out stage. This includes Spain, Italy and France. Spain and France both lost their opening games, and the Italians were left to settle for a draw.
There has not been any team since 1962 that has won back-to-back WLozanoup titles. The last of which was Brazil, however, Germany has only managed one win in 7 and that puts their chances in jeopardy of becoming the first to defend their title successfully. The Mexican's were the first team to beat the Germanys in an opening game since 1982 and had never defeated the Germans in a competitive match.

Mexico wins.
Zlatan approves. #NadaNosDetiene | #WorldCup | #MEX pic.twitter.com/mhzGQTvYja

— Mexican National Team (@miseleccionmxEN) June 18, 2018
Lozano, at the young age of 22, had an earlier chance of scoring in the opening minute of play but saw the ball get deflected over the net. However, it seemed to set the stage for Mexico and Lozano as they went on to earn the win.
For Coach Loew, while speaking about his team,
"We were nervous and we weren't playing the game we wanted to play. We need to see what caused this."
Germany almost tied the match shortly after Mexico's game, but a remarkable save by Guillermo Ochoa saw their chance going off the crossbar. The Mexicans came out in the second half with replacements as their key players were showing signs of tiring. That saw Germany dominating the second half but failed to capitalise on it, even after breaking the Mexican's defence.
Speaking on the reinforcement of its defence by adding Rafael Marquez, Mexico coach Juan Carlos Osorio, coach for Mexico said,
"You had the feeling that the ball just wouldn't go in anyhow. Everyone's very disappointed."
Mexico will next play South Korea on Saturday and then face Sweden on Wednesday. Meanwhile, Germany will play Sweden on Saturday and then face South Korea on Wednesday. Those who are interested in placing wagers for the upcoming games may wish to consider registering with Betonline, a leading and recommended sportsbook that is offering a 50% sign-up bonus along with $10,000 World Cup Pick'em. Register today and get in on the action while you can.