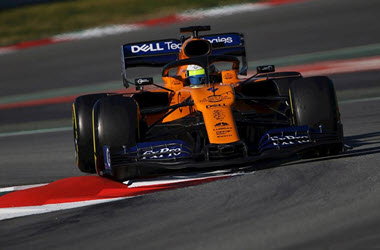 The F1 season is around the corner, and with it, McLaren is in the midst of testing their latest car. Results are showing positive news for McLaren fans after Lando Norris, a rookie driver for the team posted the fastest time during trials on Tuesday.
This is the final week allowed for testing, and while his time was somewhat slow for McLaren as Alonso looked in while Norris took to the track. Norris is part of a team of rookie drivers assembled to take over for Alonso, who is leaving F1 and Stoffel Vandoorne.
2019 has looked promising for the famed team as it shows his best performance in recent years during the preseason. That has seen the team running more laps than it has in preseason testing than it did last year. The start to 2019 is looking strong for McLaren and one of their best in the last few years. The number of laps has increased than previous years and today saw Morris not experiencing any troubles.at Barcelona-Catalunya Circuit.
Morris commented that the whole day was good, but that didn't accomplished as much as they had hoped. Norris added,
"We've improved the car slightly since last week, especially on the longer runs, so we're going in the right direction, which is positive. It's important that we keep doing that."
Lando's out on track with a little over half an hour of running left to go. #F1Testing pic.twitter.com/POHaDJaavS

— McLaren (@McLarenF1) February 26, 2019
Recording a time of 1 minute, 17.709 seconds, it was the quickest while using the faster tire compound but slightly slower than that of Renault's Nico Hulkenberg. Red Bull's Pierre Gasly recorded their second fastest time ahead of that that Lance Stroll posted.
Ferrari, hoping to win the constructors championship again this year saw Sebastian Vettel posting their fourth fastest. Teammate Charles Leclerc posted the seventh after his car spent extra time in the garage with a problem relating to its cooling system. Leclerc is making his debut with Ferrari and commented that they did less laps than they had hoped but were hopeful to make up for it in the days ahead.
Mercedes Valtteri Bottas has not had a good week placing eleventh in testing behind Hamilton, both of whom were far slower than anticipated. Bottas's car spent substantial time in the garage in the afternoon due to the need to change the power unit as a result of problems with the oil pressure.
Bottas, in speaking after testing said that the last four days were reliable but today it was not. He added he was pleased to get in a few laps adding,
" The team did a really good job to get the car out again. It was important to get a bit of a feel for the new aero package. My running was obviously very limited, but it seems like we've made improvements."
The first race of the 2019 F1 calendar will get underway in Australia for the Australian Grand Prix on the 17th of March. Whether Mercedes will correct the issues that seem to be preventing them from speeds they need to be effective on the circuits is unknown as Hamilton chases his eighth Drivers championship.