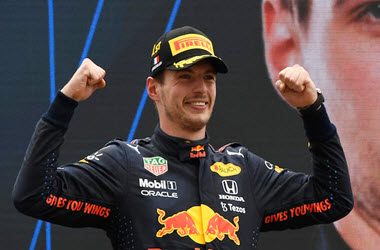 After overtaking Lewis Hamilton on the last lap, Max Verstappen extended his points lead to 12 points over the seven-time champion. Using the DRS system, Verstappen was able to catch up to Hamilton and pull off an inside pass on lap 52 to win the 2021 French GP.
The win gave Verstappen his third victory this season and the 13th of his F1 career. In addition to earning valuable points in the drivers' championship, Verstappen was awarded an extra point for recording the fastest lap.
With Red Bull's first win over Mercedes at the Paul Ricard circuit, it was their two-stop versus one-stop Mercedes strategy that paid dividends for Verstappen. With Hamilton sitting 3.5 seconds ahead of Verstappen with five laps remaining, and with fresher tires on the Red Bull, Verstappen was able to catch up to Hamilton and set himself up for the pass on the along the straight.
"When we made the call to do a two-stop, luckily it paid off,. We had to work hard for it."
After making up a 3.5 second deficit, Verstappen left Hamilton behind and won the race with a 2.9 second lead. After seven races, he now leads the points race with 131 points, while Hamilton sits in second with 119 points.
Red Bull teammate Sergio Perez managed to hit Mercedes with a double whammy after he passed a frustrated Valtteri Bottas to take third place. With Red Bull taking two of the top three positions, they saw their lead in the constructors' championship increase to 215 points while Mercedes is in second with 178.
Team principal with Red Bull, Christian Horner, stated post-race it was a team effort that worked out in Verstappen's favour.
"We pulled the trigger and we went with the two-stopper and it worked. And great job from Sergio making the one-stop work. It's a team effort, the strategy guys are working the numbers and they go for it."
Adding to the weekend's celebrations was Verstappen earning pole position that while it gave him an early lead, a turn 1 mistake saw Hamilton jump in front. When questioned on the incident, Verstappen said,
"In the beginning it was so difficult with the wind. Really difficult to keep the car stable, just lost the rear, tried to correct it, correct it, correct it, but it kept going."
The timing could not have been better as F1 prepares to roll into the Styrian GP next week, Red Bull's home track. Followed by the Austrian GP a week later, Verstappen has already matched his best season this year, and Mercedes is taking notice.
Hamilton is hoping to win his eighth F1 championship this season and set a new F1 record that he shares with Michael Schumacher. However, Red Bull is putting up a major challenge for Mercedes that could see them winning their first constructor's title and Verstappen winning his first drivers championship.
The last four seasons, when Vettel was Red Bull's no.1 driver, they were in the challenger's seat versus the leaders. With what many are saying is a superior car to the Mercedes, the pressure has now moved to Mercedes to overcome the car's challenges after going winless for the last three races.
"We've got to find some pace, that's for sure," the veteran British driver said. "Most of the time we lost today was just the straights and we've got to dig deep to find out where that is."
Finishing fitch for McLaren was Lando Norris, who once again beat his more experienced teammate Daniel Ricciardo. AlphaTauri's Pierre Gasly finished in sixth while eighth place went to Fernando Alonso, in ninth was Sebastian Vettel, and in tenth was Canadian Lance Stroll.
The race was another disappointment for Valtteri Bottas after watching his thirds place finish evaporate when Sergio Perez overtook him to earn the one-two punch for Red Bull. Sitting in fifth in the drivers' standings, Bottas is fighting to retain his seat with Mercedes, and the frustration is showing.
After Bottas was overheard on the team radio asking why no one listened to him when he said the race should have been a two-stopper, it looks like Mercedes may be struggling to find the right balance. Whether they overcome those at the Styrian GP is anyone's guess, but as far as Verstappen is concerned, he expects the wins to continue to Red Bull, and for F1 punters, they may want to heed his warning.