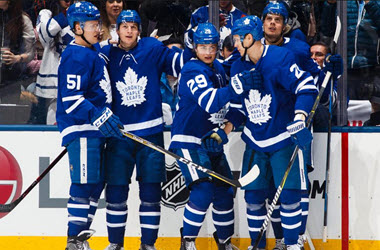 The Toronto Maple Leafs have been working hard this year, but for Andreas Johnsson, last night's game against the Philadelphia Flyers was one he had been waiting for all season.
Johnsson earned his hat trick of the season last night and helped lead the Toronto Maple Leafs to a 6-o win against the Philadelphia Flyers. Johnsson has had a slow start this season, but clearly, after last night, that is behind him after he scored three goals in the first period, a first in his career.
It took him only 2 minutes, 12 seconds of ice time for that accomplishment, one that the Maple Leafs had not seen since 2015 when Tyler Bozakon scored a first period hat trick. Johnsson was taken back by the feat stating,
"It kind of felt unreal. It's hard to explain. I had the first goal and then the second goal and then the third goal and I was like, 'what's going on?' I didn't expect this before the game, but it's nice to score."
This season has seen Johnsson struggle to score, and prior to Saturday's game, had managed only two goals and a single assist. Philadelphia goalie, Calvin Pickard, a former teammate of Johnsson may have been an advantage for the Swedish player, whose knowledge of Pickard may have helped fueled the burst of goals. The two played together on the Toronto Marlies before being brought up to the Leafs and Pickard to the Flyers due to waivers.
SportNet
Each goal Johnsson put in the net went to the same spot but insists it was not insider information, but knowledge that saw him making that choice. Johnsson claimed he had seen other guys do the same but that overall, it was just instinct.
Johnsson's speed also played a factor as he enters the Flyers end zone in his first goal, and the use of a double-clutch move fooled Pickard, and with it, brought an end to a three game first goal deficit by the Leafs. Johnsson's next shift saw him blocking a shot at the Leafs blue line only to chase down the puck and take it to the Flyers zone and score his second, again, sped played a part. As his fourth shift began, Johnsson came at picked from the side of the net and sent a backhand past Pickard's glove to earn his first NHL hat trick.
John Tavares noted the speed Johnsson possesses is dynamic and his puck handling another factor that helped with the plays. He added,
"Being able to open the goalie up and slide the puck five-hole was just tremendous. Today was great for him and great for his confidence. Early in the year, it's always getting your confidence and feeling yourself out and finding out what you need to do to be successful."
The Maple Leafs are sitting in third place of the Eastern Conference with 16 wins and 8 losses. The race for first is tight between Tampa Bay, Buffalo and Toronto, and for punters, it give Toronto credibility that the hard work and investment in key players such as Johnsson and Tavares is paying off. Bookmakers such as 888Sports have also taken notice with odds favourable for the Maple Leafs, and with up to $250 in signup bonuses available, registering now is a prime opportunity as the season heats up.
Coach Mike Babcock was equally impressed with Johnsson, who in a single game more than doubled his output of the season. Babcock stated,
"You think you know how to play, but you find out when you get here you didn't have many details because the AHL didn't need as many details because the players weren't as good. So that's the biggest process for you. It takes your confidence away; the players are too good, and you never touch the puck. But for Johnny tonight's a big step. Now, can he turn it into something and get some rhythm in his game and get going? Ideally, he can."
Considering the upcoming changes to the Maple Leafs lineup, the timing was perfect for the swede, especially with the pending deadline for William Nylander fast approaching and Matthews is set to return from his shoulder injury at any time. For Babcock, fitting in both Matthews and Johnsson will mean making some hard choices, and that is not lost on those who have not been performing.
Babcock, while speaking about the pending changes that,
"I don't think they're sensing that change coming, I think they know it. They're smart guys. It's my assumption we're getting both Matthews and Nylander back. Obviously we'll be a better hockey club when we have them both."
Whether Johnsson will build from his staller night in the upcoming games time will tell, but clearly, the pressure is on for the six wingers in Babcock's sights. Toronto next plays the Boston Bruins on Monday night before heading to meet the San Jose Sharks on Wednesday night.