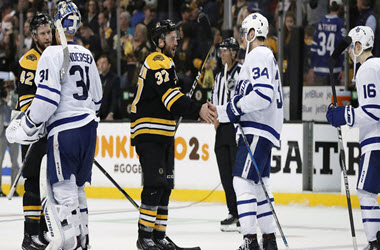 The end has once again come for the Toronto Maple Leafs after failing in their bid to advance to the second round in the playoffs after losing Game 7 to the Boston Bruins. After a solid start to the regular season, the Leafs have stayed true to their past and dropped the ball once again in a year that saw the signing of John Taveras and the drama that surrounded the resigning of William Nylander.
While Toronto may not be the same team they were last year, they clearly have work to do after struggling to get back into the series only to take the lead and watch it all go down the drain. This is the third back-to-back year that the Toronto Maple Leafs have failed to advance beyond the first round under the watch of Mike Babcock and with the lost opportunities, it hurts that much more. Commenting on the loss, Auston Matthews said,
"It's just frustration everybody feels in this locker room. It's sad to see it end the way it did. So this is obviously a feeling we've experienced two years in a row. It's not a good feeling for any of us. It's something we want to not really experience again."
Sportsnet
Toronto might have put together a new lineup and one with more experience than that of last year but the results ended in a similar way. In 2018, Frederik Anderson has a poor save percentage, and Jake Gardiner, one of the Leafs best had one of his worst seasons in the NHL going -5, and by the end of Game 7, he was -3.
After Andersen failed in closing the gap, it saw the Boston Bruins open the scoring after Joakim Nordstom slipped one past his pads through the gap, all while Gardiner was in the wings looking on. He then gave up the puck only to do so by sending it to the Bruins and watch as the made use of his egregious mistake to put the Bruins up 2-0.
It appeared that Gardiner was attempting to pass to Matthews, but instead, it found its way behind the next. Matthews chalked it up to missed communication adding,
"I was calling for it to go up the middle. I think Gardiner, when I called for it, he thought I meant reverse. It was just a little miscommunication. It was a mistake on our part. That's on both of us, and it's in the back of our net."
Gardiner also was on the ice when Charlie Coyle scored an empty netter, and while many had questions for the veteran player, he was not made available for media interviews after the game. For many analysts, it may have been his last as a Maple Leaf and that that didn't sit well with Morgan Rielly who commented that,
"Nobody cares what anyone says. He's a f—ing really good player. We want him back next year so that's that."
There is little denying Gardiner was not in his best form during the playoffs and was returning after being out for eighteen games due to persistent back problems and subsequent rehab. He had only two games under his belt in the regular season upon his return to the lineup before heading into the post-season, where arguably the level of play goes up a notch, but he never seemed healthy. Commenting on Jake Gardiner and his level of play, Mike Babcock said,
"He's not mobile, it's unfortunate, but he tried to give us what he could and tried to help us. You think he's better than the guys that are available that are 100 per cent. He did what he could and, in the end, it wasn't enough to help us through this series. In saying that, no fault on his part."
It is now time for the Maple Leafs to try once again to figure out how to win games, and more importantly, win playoff games. Whether decisions to the lineup's and its coaching staff will occur in the offseason will have to be seen, but the bottom line, something needs to change, and it starts at the top. That is something punters feel strongly about, and that is shared by oddmakersat sportsbooks such as 888Sport, a top rated sportsbook offering action on the NHL playoffs. Registering today will entitle new punters to the sportsbook to a signup bonus worth up to $250. Register today and take advantage of this generous offer.