Celebrini Strikes Help Canada Reach Semis Of 2023 U18 Worlds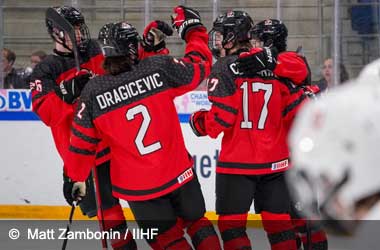 Summary
Canada beat Switzerland 7-3 to advance to the semis of the U18 Worlds
Macklin Celebrini and Andrew Cristal score two goals each for Canada
Canada will now face Sweden in the semi-final on 29 April
Canadian hockey fans were delighted to see Team Canada pass a tough test against Switzerland and book themselves a place in the semi-final of the 2023 U18 World Championship. 
Canada Thrashes Switzerland To Advance To Semis
Canada needed to get past Switzerland in the quarter-finals and it was a tough proposition because they were playing in Switzerland on home soil. Things were pretty even during the first quarter of the game as the Swizz played a tight game and used the home support to their advantage.
Canada started to improve their game and put more pressure on the Swiss as the game went on and it caused the Swiss defense to slowly start to cave in.  Macklin Celebrini and Andrew Cristal turned it on for Team Canada as the two of them ended up scoring 2 goals each to eventually power Canada to a strong win with a 7-3 scoreline.
Switzerland were disappointed at falling short in the quarter-finals in front of their home fans but Matteo Wagner who scored twice for Switzerland said that as a team they were proud overall for how far they had come in the tournament.
Canada To Face Sweden In Semis On April 29
Canada's next test will be on April 29 when they take on Sweden in the semi-finals. Canada's head coach Jeff Truitt knows that his team will need to tighten up and not make as many mistakes as they did against Switzerland if they are to beat Sweden and make it to the finals of the U18 Worlds.
In a statement, Jeff Truitt said
I thought that we outskilled the other team at times, but I thought that we shot ourselves in the foot here a little bit as well. We know we can improve on that. We know we've got to clean some things up and tighten up our D-zone.
The second semi-final will see the United States take on Slovakia on 29 April in Basel. The United States is the number one ranked team in the world and they are facing Slovakia who is ranked 6th. Canada is looking to win their 5th U18 World Cup Championship, can they do it? Get the latest odds on their chances with a selection of hockey bettors.