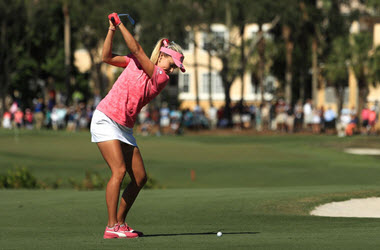 The CME Group Tour Championship is underway, and for Lexi Thompson, she is in control leading the pack after round three, and it seems that Ariya Jutanugarn has control of almost everything else, just not the lead.
On Saturday, Thompson shot 4 under 68 at the Tiburon Golf Club to move her to 16 under after the third round. Her performance saw her take a three shot lead over Nelly Korda and a six shot lead over Carlota Ciganda. Korda also had a solid performance and sat at 13 under, while Ciganda is at 10 under.
This week has seen Lexi Thompson performing flawlessly having almost dropped not a single shot except a fourth hole bogey on Saturday. She overcame that with five more birdies over the course of the round to move into the lead.
Thompson understands that the game of golf is about momentum she told the media at the end of the round. At this stage, that momentum is in her favour, especially when you consider over the first three rounds she has shot fourteen birdies, an eagle and only one bogey. Thompson is collected and calm on the course and seems to have found the right rhythm and having her brother as her caddie only helps to keep her focused.
While speaking to reporters during post-round interviews, Thompson said,
"I just tried to keep the same attitude as I did the last two days. Curtis kept me nice and relaxed. He's always cracking jokes out there. It's been a nice relaxing week just having him on the bag and having all my family and friends out here supporting me."
LPGA
If Thompson manages to keep her cool and hang onto the top spot on Sundays final, it will be her first of the season. Rival Ariya Jutanugarn is well back from Thompson at 6 under, but she is still in the money, and as she is ranked no.1 in the world, she is still a threat.
Jutanugarn hope to win is small, but she is in the lead of the CME Globe standings that, if she retains it, will see her earn a $1 million bonus in the LPGA's season points race. If she does, it will be her second in three years, and having already secured the Player of the Year award, she is in line for also winning the Vare Trophy for having the lowest scoring average on tour. Commenting on the Globe Race and what is at stake on Sunday, Jutanugarn said,
"I did a pretty good job. I didn't think about that at all. Yesterday I thought about that too much, worrying about that."
While she has yet to secure the Vare Trophy, it is highly unlikely that it will not fall into her hands after the final round of the season is played. Those also in the running, Jin Young Ko and Minjee Lee would need to beat Jutanugarn by thirty strokes to win, and that probability is unlikely.
Canadian gold bettors interested in betting on the final round will find some great signup offers available. One of our premier gold betting sites is Spin Palace Sports, and with up to $200 available in bonuses, the timing couldn't be any better. Register today and reap the rewards.