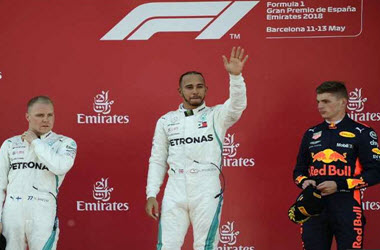 One thing was made clear on Sunday afternoon in Spain, Lewis Hamilton is far from out of the race, and the same goes for Mercedes, who won without much effort showing Ferrari that they are the team to beat this season, not the other way around.
Lewis Hamilton dominated the race proving that Mercedes is strong and set the tone that puts them in the lead of both the driver standings and manufacturer standings.
Hamilton, who is set to sign a new contract with the team, was clearly pleased with the results and was overhead on the team radio saying,
"This is more like it. Let's keep this up."
Mercedes's Valtteri Bottas took second giving the team a one-two punch at the Circuit de Barcelona-Catalunya. Red Bull, fresh off a disastrous race in Azerbaijan, saw Max Verstappen, after suffering a broken wing, manage to continue to take third.
Sebastian Vettel, who led the point's race after the first two races, now sits 17 points behind Lewis Hamilton in second after finishing fourth in yesterday's race. Hamilton won his first race of the season in Azerbaijan, Spain was is second and with points earned in the other two races to date this season, the win gave him the lead.
Yesterday's result for Mercedes was the first this year that both drivers shared the podium, and was especially sweet after struggling to match the speed of Ferrari. For Hamilton, yesterday was about him and the car stating,
"I felt that synergy which I hadn't been feeling for the whole year. It's a good feeling."
Hamilton, who had pole position, led the entire race and was not challenged as he drove to his 41st victory from pole position. This was a rare moment in F1 in that with this win; he surpassed the record set by Michael Schumacher.
"It's almost all sorted."

"It will happen."

Lewis Hamilton is on the verge of signing a new contract at Mercedes – who also offer update on Valtteri Bottas' futurehttps://t.co/0kTnl7lMvq #SkyF1 pic.twitter.com/QtOdFhjwP0

— Sky Sports F1 🏎 (@SkySportsF1) May 14, 2018
The legendary Schumacher earned a staggering 91 wins, and for Hamilton, who sits at 64 wins, he is 27 behind Schumacher's record. However, it is unknown how much longer Hamilton intends to stay in F1, whether he remains and surpasses Michael Schumacher as the driver to win the most in F1 will be seen.
Hamilton continued commenting on his 41st win from pole,
"I remember like it was yesterday sitting at home playing this computer game as Michael. It's just very surreal to think that every now and then I keep coming up against Michael in terms of records. He has some serious records. It's hard to beat all of these records that he has."
Lewis Hamilton also entered the record books as the first to earn points in thirty consecutive races. When brought to his attention post-race, Lewis said,
"This weekend we got ourselves on the right path," Hamilton said. "I would like to hope it could be part of the turning point."
Daniel Ricciardo took fifth finishing just ahead of Hass Racing's Kevin Magnussen, and Spain's Fernando Alonso and Carlos Sainz finished 7th and 8th respectively, with Sauber's Charles Leclerc taking 9th and Sergio Perez took 10th.
Hamilton got off to a clean start, and in a race to the first turn, Sebastian Vettel moved up one position passing Valtteri Bottas moving into second. It was clear Mercedes and Hamilton were on a different strategy as he quickly pulled away from the pack and led the entire race finishing over 20 seconds ahead of teammate Bottas.
What a feeling. It's been an awesome weekend, the car felt incredible! I can't thank the team enough for the hard work. To my fans, your energy was with me today as always, you guys are amazing! Looking forward to the next one 🙌🏾🙌🏾💥 📷 Vid Vorsic @MercedesAMGF1 #TeamLH #F1 pic.twitter.com/hsijb3KZxp

— Lewis Hamilton (@LewisHamilton) May 13, 2018
Vettel had maintained second but made an extra stop for fresh tires and forfeited his position and was unable to get it back as time was lost in the pits re-entering behind Max Verstappen. Said Vettel on the decision,
"For us it was not an option to stay out. I think it was the right thing to do."
Mercedes set the pace in practise and time trials this weekend earning the fastest times during both. For Hamilton, it was his second pole of the season; his first was in the opening race in Australia.
The Spanish Grand Prix was far from a thrilling one this year with few able to match the speed of Mercedes. The majority of the action took place at the start of the race in what saw Team Haas's Romain Grosjean, Pierre Gasly of Torro Rosso and Renault's Nico Hulkenberg after Grosjean spun off the track only to return and spun his car intentionally across the track.
This saw Gasley and Hulkenberg to colliding with Grosjean and forcing all to retire from the race. Race officials handed Romain Grosjean place grid penalty for the next race in Monaco on the 27th of this month.
Max Verstappen also had a mishap that saw him losing part of his front wing while running in fourth after he came in contact with one of the Williams cars but the damage was slight, and the Red Bull car was able to remain in the race.
In post-race interviews, Verstappen, commenting on his podium finish, said.
"I kept going. It was not bad. I don't think it affected me too much. It feels nice to be on the podium and nice to have a good, clean race."
The Formula 1 season now moves onto Monaco before heading overseas to Montreal for the Canadian Gran Prix. How the rest of the season will stack up is almost, at this point, predictable with both Ferrari and Mercedes battling it out for both the driver's point race and contractors.