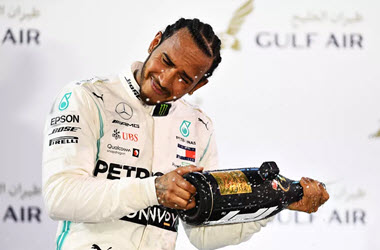 Lewis Hamilton earned a surprise win this weekend at the Bahrain Grand Prix, one that some would call a present from Ferrari after both its cars failed to finish serving the win on a silver plate for the five time champion.
Mercedes was slower than the Ferraris, but it was luck on their side, not on Ferrari's as Hamilton put pressure on Sebastian Vettel and that saw the Ferrari's engine giving out with twenty laps remaining. Things didn't improve for Ferrari after Charles Leclerc, who was leading the race reported a loss of power.
That saw Hamilton surge ahead into first and watched as friend David Beckham, who spent time with Hamilton before the race, waving the checkered flag as he passed the finish line. It was his 74th win and put him in the record books as the driver with the second most record wins. Only legend Michael Schumacher had more.
Leclerc managed to hold on and finished in third with Mercedes's Valtteri Bottas finishing second. This is the second race of the season, and in both, Mercedes finished in the top two positions, only the first race saw the order reversed with Bottas coming in first and Hamilton second. Commenting on the race, Lewis Hamilton said,
"We were lucky. Ferrari out-performed us from the get-go. It definitely feels weird. But what can you do? You can't deny yourself victory. Charles was incredible this weekend. He was so much faster than his teammate," Hamilton said. "He has a bright future ahead of him."
Autosport
Leclerc was not happy with the result as he thought he was going to join Sebastian Vettel and Max Verstappen as the third youngest driver to win an F1 race. Commenting, Leclerc said,
"You have a dream since childhood, your first win in Formula One."
Finishing in fourth was Red Bull's Max Verstappen, and Sebastian Vettel finished in fifth. Leclerc only managed to find himself with a podium finish due to the safety car entering the track due to both Renaults going off the track.
That left Verstappen unable to chase down Leclerc and having to settle for third, his second, third place finish of the season. Ferrari understands that finishing in third and fifth does not cut it, not if they hope to win the constructors title. They last won in 2007 when Kimi Raikkonen was with the team but have since managed to come out on top of Mercedes, in part due to mistakes, mishaps and poor strategy.
Maurizio Arrivabene, who was Ferrari's team principal was replaced with Mattia Binotto, who previously was in the role of chief technical officer. However, he too is in a similar situation with a faster car but having to deal with errors and a car that seems prone to problems.
As the F1 season heads to China for the Chinese Grand Prix in two weeks, Ferrari and Binotto will need to find a solution and fast or risk falling well behind the Mercedes and costing them valuable points. For punters, it is valuable information going forward for the next foreseeable few races that Mercedes will deliver the best odds with sportsbooks such as Sports Interaction, a leader in sports betting entertainment. New punters registering will qualify for up to $200 in new depositing bonuses, and that is a perfect opportunity to place bets on the upcoming Chinese GP.