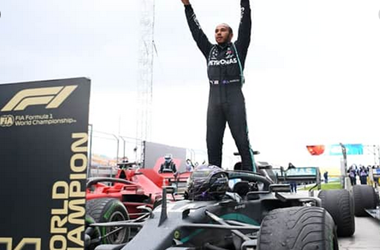 Six time Formula One champion Lewis Hamilton secured his seventh F1 championship after winning the Turkish Grand Prix on Sunday. The win was Hamilton's 94th victory in F1, and with it, he now enters the history books joining Michael Schumacher as the only driver to have won seven titles.
Hamilton, who after his retirement in 2013 replaced Michael Schumacher at Mercedes, fought hard to come from behind. After sitting 20 seconds behind the race leader, Hamilton not only caught up to the race leaders but overtook and built a 30 second lead in what many are calling the race of the season.
After crossing the Turkish Grand Prix finish line, an emotional Lewis Hamilton could be heard over the radio thanking his team. The emotions continued during his post-race news conference, in which Hamilton stated:
"All these emotions were running through me and I was trying to stop it. I was thinking about my whole career, from when I was five when I drove in a go-kart, from when we won the British championship, driving home with my dad and singing 'We Are The Champions' and dreaming of being here."
Sky Sports F1
The day was not without other achievements after Canadian Lance Stroll, a native of Montreal, Canada earned first F1 pole position. However, despite starting the race in first, he failed to maintain the momentum and finished in ninth. Stroll now joins Jacques Villeneuve as the only other Canadian driver to start an F1 race from the pole position.
However, the day's victory and celebrations focused on Lewis Hamilton and his winning his seventh F1 title. Commenting during his media conference on his achievement, Hamilton said,
"It really hit me and I just burst into tears. I couldn't get out of the car because I just couldn't believe it. I didn't want the visor to come up and people to see tears flowing because I had always said I would never let you see me cry. I remember watching drivers in the past crying and I was like 'I'm not going to do that.' But it was too much."
On his way to the podium, a visibly emotional Hamilton, who before joining Mercedes has only one title to his record, was seen wiping tears from his eyes, spoke with the media stating:
"I'm definitely a bit lost for words. I dreamed of this as a kid. This is way, way beyond our dreams. Dream the impossible. You have got to chase it and never give up. That's for all the kids out there who dream the impossible. You can do it."
After taking an early lead in the drivers' championship this season, Hamilton only needed to finish ahead of his Mercedes teammate, Valtteri Bottas to secure his seventh title and Mercedes's sixth. The Mercedes struggled in qualifying in Turkey, and that saw Hamilton down in 6th on the grid. The win and the significance of it were not lost of the British champion.
"I know I often I say it is beyond wildest dreams but my whole life secretly I have dreamt as high as this. It felt so far-fetched. I remember watching Michael win those world championships. To get one or two or even three is so hard. Seven is unimaginable. There is no end to what we can do together, me and this team."
After taking the lead, Hamilton managed to build up a 30 second lead over second place finisher Sergio Perez. Perez, and coming in third was Sebastian Vettel overtook teammate Charles Leclerc.
Viettel, who has not had a very productive season, took little time to walk over to Hamilton's car, lean in and congratulate on his winning the race and locking up the championship. After podium celebrations, Vettel stated:
"It is a bit of a surprise to snatch the podium, but I am certainly very happy. It was quite intense but good fun."
After joining Mercedes in 2014, Hamilton won his second championship title in 2014 and has won every season thereafter with the exception on 2016, when Nico Rosberg managed to edge in front and secure the title. While the two fell out of sorts, Rosberg posted on Twitter:
"Surely one of the greatest achievements in the history of sports. Lewis and enjoy the celebrations with your family and friends."
The day began under wet and icy conditions, and that saw drivers spinning and going off at the start. Hamilton managed to jump up three positions on the start only to spin out and lose position to Alexander Albon and Max Verstappen.
It was also a race that saw frustrations causing drivers to make mistakes while pushing hard for position. Ultimately, it came down to strategy, and that was where Mercedes outranked the other teams. After Stroll pitted for new tires on Lap 37, Hamilton activated his DRS and took the lead, and that rest, as they say, is, history.
The only question remaining for Hamilton and Mercedes is whether the two will agree to a new contract. For F1 fans, it seems evident that Mercedes will not want to see Hamilton retire, and from all accounts, that is unlikely to happen. Still, for bookmakers like Spreads.ca, once contract talks are out of the way, it is a safe bet that Hamilton will be pegged to continue his dominance in the sport next season.