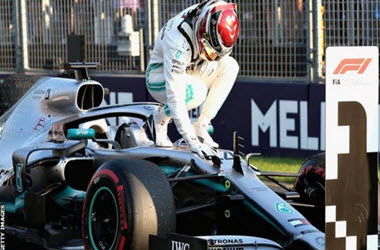 As the Formula 1 season gets ready for its first race of the season, Lewis Hamilton, it seems Lewis Hamilton is picking up right where he left off last season as he posted the fastest time during testing in Melbourne.
Lewis Hamilton's teammate, Valtteri Bottas posted the second fastest time and that was good news for Mercedes, who had been slower during winter testing that Ferrari. Hamilton posted a time of 1 minute, 22.600 seconds during the early practise sessions at Albert Park circuit and he was faster still during the afternoon session edging out both Ferrari drivers.
Mercedes is hoping to win another constructors' title this season, and if successful, it will be their sixth consecutive win. Commenting on the practise session, Hamilton said,
"I have a positive buzz from driving the car today. The car feels like it's in a similar place to where it was in testing, which is positive coming to a different track. There's plenty of stuff that we can improve on, but this was not a bad start. The fact is none of us made a mistake and we kept the cars in one piece — that counts for a lot."
Ferrari again was off the pace with Sebastian Vettel posting the fifth fastest time and teammate and Leclerc going off into the grass to post the ninth fastest. Max Verstappen finished with the fourth fastest time for Red Bull in the morning session but improved to third in the afternoon session. Verstappen commented that he felt there is room for improvement and that he feels the car is not yet fast enough. Verstappen added,
"There is a long way to go,. It looks like Mercedes are very quick and they seem to be a little happier with the overall balance. We had no expectations going into today and it's just good to get started."
A real positive buzz on the track today. The car is flowing beautifully. We're ready for the fight tomorrow 👊🏾 #AusGP #F1 @MercedesAMGF1 📷 @MSI_Images pic.twitter.com/SAMwnCASO5

— Lewis Hamilton (@LewisHamilton) March 15, 2019
Kimi Raikonen, now with Alfa Romeo Racing posted the sixth fastest time and in seventh and eighth was Team Renault's Nico Hulkenberg and Daniel Ricciardo. The early session saw the field all posting times within tenths of a second but that changed in the afternoon.
Last season saw Sebastian Vettel and Lewis Hamilton battling for the Drivers' Championship but it was Hamilton who took control in the second half coming away with his fifth Drivers Championship. He has eleven victories out of twenty-one races and seems intent on winning his sixth championship this season. Last season it was Hamilton who earned pole position at the Australian Grand Prix, but it was Vettel who won and Hamilton is focused on overturning that this year.
Robert Kubica, who left Formula 1 after an accident that saw his right hand severed partially during a rally race is making his return to the sport for Team Williams. Williams continues to struggle finishing in the last two spots for both sessions. The morning session was cool with temperatures hovering at 21 Celsius and that, for the most part, stayed consistent for the afternoon session. The weather forecast is showing conditions are expected to be warmer on race day.
Jean Todt, president of F1, and Chase Carey, chairman of F1, held a news conference yesterday that began with a minute of silence in memory of Charlie Whiting, The popular race director passed away on Thursday as a result of a pulmonary embolism. Jean Todt was clearly emotional as he asked those in attendance to stand during the minute of silence. Many were shocked by the death of Whiting, as were many in the F1 community. Many veteran drivers and team members took to wearing black armbands in as a show of respect for Whiting. It was announced that for the interim, Michael Masi will take over the role.
The Australian Grand Prix is the perfect time for F1 punters to prepare for the season ahead. It is also the ideal time to register with leading sportsbooks such as Sports Interaction who over F1 action. Registering today will qualify new members to a welcome bonus worth up to $200 and continued regular promotions as the season gets underway. Register today!