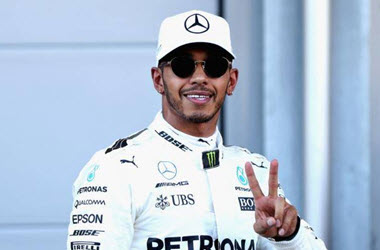 As Lewis Hamilton continues his contract negotiations with Team Mercedes, he is feeling relaxed and has suggested it may be the final contract of his celebrated F1 career. This season will be the third year of his current contract and talks are already underway with Toto Wolf, the executive director at Mercedes, to re-sign Hamilton to a new contract for next season.
Lewis Hamilton has publicly stated that he was hopeful that the contract negotiations would be out of the way before the start of this season but it seems unlikely given that the first race is less than two weeks away.
In a recent Associated Press interview, Hamilton said,
"We started talking about it over the winter and I was like I'll come back to it and then we picked it up again and I was like I'll come back to it. It's not really my priority at the moment."
Lewis further added that he is relaxed stating,
"I'm really super relaxed, I don't feel pressure from the team, I don't feel pressure within myself. I want to continue racing so I'll have to do a contract at some stage but I'm definitely not going to do it when people want me to do it. I'll do it when it's ready."
In the event Hamilton and Mercedes do agree to a new contract, it is expected to see Lewis remain with the team for an additional three years after the completion of this season. Hamilton believes he has the drives and skills to stay at the top of his game until he is 40, he is unsure if he will remain in F1 that long.
Speaking about his career projections, Hamilton mentioned,
"I don't want to stop early, I don't want to stop premature that's for sure but I really don't know what my time is. I could probably stay until I'm 40 if I wanted to but I don't think I'm going to do that. I could stay one or two more years but in two years' time will I still have the excitement that I have now of going into another season? I really can't tell you."
As Lewis attended a Mercedes sponsor's event in Turin, relaxed is precisely how he appeared. He was seen laughing and joking around while responding to reporters' questions while at the new Petronas' research and technology centre.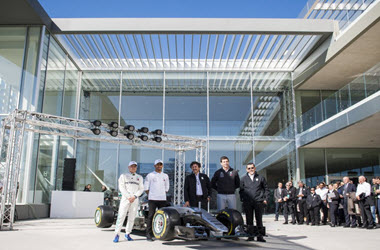 However, while calm, it seemed apparent that he was looking forward to getting back to racing stating,
"I don't really like practice. I'm super competitive and that's never ever going to change. Even when I'm 80 years old I'll be competitive and hopefully, I'll have grandchildren or something by then, still going to be wanting to beat them if I'm walking with my blooming zimmer (walking) frame. It's just how I'm built."
It is that competitive motivation that is a big part of what has seen Lewis win four world championships, and should he win a fifth championship; he will be only one of three to win more than four, the other two being Michael Schumacher, who won seven and Juan Manuel Fangio, who won five.
For Hamilton, this is not something he has even has come to mind and is unsure how that would feel saying,
"People always asked me what would it mean if you got the third, the fourth. You just have no idea. It's like saying 'how would it feel if you won the lottery?' I'm sure you'd feel good but you don't really know how you're going to feel. It would probably feel good for a second and then you'd be overwhelmed with people trying to steal your money."
As the upcoming season gets underway, anticipations will be high to see if Mercedes and Hamilton will remain at the top of the F1 circuit. F1 betting sites are sure to favour Mercedes and Hamilton, yet with recent changes to tires and engines, it will be interesting to say the least to see how those changes impact teams on the track. With Hamilton winning last year's drivers championship, which he wrapped up in Texas last season, all eyes will be on Lewis to see if he can earn his fifth world title.