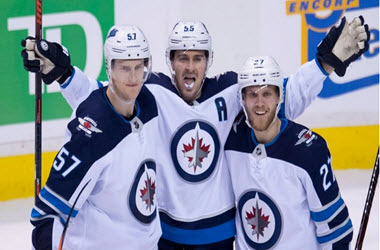 The Winnipeg Jets rolled into Vancouver last night running hot after winning six of their last seven games, and they improved that to seven out of eight after defeating the Vancouver Canucks 1-0 on Saturday night.
Laurent Brossoit, who joined the Winnipeg Jets as a free agent, earned his first NHL shutout after shopping fourth shots to help defeat Vancouver. The occasion is one Brossoit will not forget, who commented during post-game interviews that,
"This is one of those games I don't think I will forget. To have that many shots and have the game go the way it did, and have my first shutout here in the building I grew up in, it was definitely a special moment."
In the final minute of play Vancouver pulled goalie Jacob Markstrom and feverishly attacked the Jets hoping to tie the game, and Brossoit, who faced shot after shot in the final minute said,
"You never want that kind of chaos but, at the end of the game, for it to go our way, the chaos is fine."
Brossoit was on top of his game last with quick reactions and blocking shots from Josh Leivo and a rebound shot from Elias Pettersson. He stepped up his game during the second period while Vancouver was pressing during a power play, and in doing so, improved his season record to 8-1-1 and earned his first career shutout.
Sportsnet
Last night was Brossoit game in net against the Vancouver Canucks and his fourth start this month with the Jets. Brossoits performance is good news for sports bettors and bookmakers such as Sports Interaction. New punters will be welcomed with up to $125 in signup bonuses at Sports Interaction, and with the Jets sitting near the top of the league, odds are favourable for Winnipeg to continue strong as the Christmas break concludes. For Brossoit, it was the most consistent starts he has had in the NHL adding,
"I appreciate the vote of confidence to have me in consistently. It's easier to prepare."
Brossoit's quick reaction skills have not been lost on Jets head coach, Paul Maurice who stated,
"Our goalie was our best player. He's earned every start that he's got He just hasn't given us a reason ever not to start him. As good as he is in the games, he's equally good in practice, pushing to get better all the time. If he was on a longer term deal I'd talk more nice things about him, but we've got to sign him again this year so he's just all right."
With the third period looking like the game would go to overtime, Dustin Byfuglien, Blake Wheeler and Mark Scheifele went on the attached and a blistering series of passes between Wheeler and Byfuglien, Scheifele went to the net to score Winnipeg's only Jet, and with only 1:32 remaining in the period.
The loss late in the third was a hard one to swallow for Vancouver and was their second such loss in the last nine games. Commenting, Antoine Roussel, who plays forward for the Canucks said,
"It's been a couple of games we've lost like that. It's frustrating. You have to come up on top and learn from those games sometimes. You can't be losing in the last two minutes of a game. We battle all the way and crack at the end. It hurts."
Vancouver coach Travis Green, coach for the Canucks also felt the sting adding,
"Something to hang your hat on. Our team played great tonight. One of our better games of the year. The guys wanted to win bad tonight and they played like it. We'll be fine if we keep playing like that."
After the Christmas break, Winnipeg will welcome the Calgary Flames on the 27th and the Minnesota Wild on the 29th. Vancouver is now off until the 27th when they head to Edmonton to take on the Oilers before taking on the New Jersey Devils on the 31st.