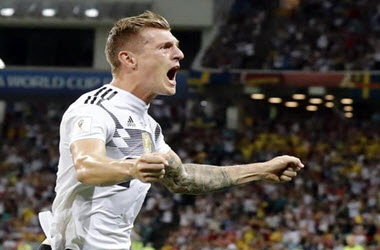 The defending World Champions have not had the start they hoped for in this year's World Cup and were heading towards a draw against Sweden, that is until things began to go their way with a late match goal to give Germany a 2-1 win over Sweden.
Germany was desperate as they went into stoppage time, and it was the brilliance of Marco Reus and Toni Kroos that saw the duo carry out a trick play learned during training that will be talked about for years to come.
As Reus and Kroos entered the penalty area, a pass from Rues to the middle of t, in this case,ed by midfielder to Kroos who sent it past Sweden's Robin Olsen to give Germany a 2-1 lead with only minutes left in stoppage time remaining, much to the surprise of the Swedes.
After the match, Reus said,
"The fact Toni Kroos put it away is just incredible. He's shown that talent on previous occasions but really in this case it was practically the very last opportunity to win this match."
For Germany, the goal was epic and saw the team rushing to celebrate and congratulate Kroos on the remarkable play. For Germany's coach, Joachim Loew, it was a relief. For World Cup bettors, it was the news they needed to have mconfidence Germany are contenders in this years tourment, and with sports betting sites such as Spin Palace Sports offering up to $200 in free bets, the time is right to take advantage of the generous offers for World Cup betting.
Commenting on the play, Loew said,
"Of course this was a thriller, full of emotions and a rollercoaster ride right up until the final whistle"
After an unexpected loss to Mexico, Germany once again saw itself behind after a goal by Sweden's Ola Toivonen 32 minutes into the match saw the Swedes taking the lead. This put the pressure on the Germans as two back-to-back losses would spell disaster.
🎙️ @esmuellert_: "We gave our absolute all and by the end it paid off. We weren't perfect by any means, but we came through against the odds. This could be a turning point for us in this tournament." #GERSWE #ZSMMN #DieMannschaft pic.twitter.com/QfPRZg60Mq

— Germany (@DFB_Team_EN) June 24, 2018
After Rues tied the match at the 48th-minute mark, Germany was still in the hunt knowing a draw would let them advance to the knockout stage, but they wanted more, reputation and honour was on the line as defending champs.
For most of yesterday's match, Germany looked like it might go into its final match and suffer the embarrassment of being the 3rd defending champion in a row to fail to advance beyond the group play in a row. While Sweden took the lead, it was Germany that controlled most of the game through aggressive play and attacking the Swedes time after time – as the match entered the final minutes, that plan paid off.
The Rues/Kroos combination worked marvellously and caught Sweden off guard, and for Olsen, it almost appeared like he paused before accepting defeat after the shot by Kroos went past the goaltender.
While Olsen made an outstanding save after a header by Mario Gomez and another by Julian Brandt, but he failed to save the one that decided the match, one that almost seemed too easy to stop.
After an injury during training to Mats Hummels neck, coach Loew made changes, some out of necessity, others not. One of those line changes saw Loew replacing Mesut Ozil with Reus in the starting lineup, a move that was a first for the seasoned German player after starting every game since the 2010 World Cup for Germany.
With the win, Germany is now in a better position. Both Germany and Sweden have three points each but with six points, Mexico leads Group F. As the final group matches approach, Sweden next will face Mexico and Germany will play South Korea. With no wins in the group stage, South Korea is feeling the heat.