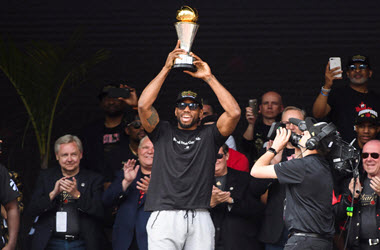 The Toronto Raptors are still in celebration mode after winning their first NBA Championship, and for parade leader Kawhi Leonard and recipient of a key to the city, the decision on whether to stay with the franchise he led to victory, or whether to move on.
At the moment, Kawhi Leonard has not commented on his intentions as to if he plans to use the door that is open to the NBA Finals MVP, he also hasn't commented on whether he will close it and stay in Toronto. After Game 6, Leonard heading off to Los Angeles and Las Vegas with several teammates to party and celebrate before returning to Toronto to join in parade celebrations joining teammates in one of the double decker buses that rode along the parade route.
It is expected that Leonard will decline the option to remain another year on his current contract and instead will test the waters to see what offers come and which teams express interest. The reality is the Raptors have the ability to offer Leonard about $190 million over five years, and that is close to $50 million more than other NBA teams are in a position to offer.
ESPN
In an interview before hitting the stage for Monday's ceremony, Leonard stated he hasn't put any thought in his future but instead has just been trying to keep the celebration vibes going. Adding to that, Leonard said,
"I'm enjoying this. It's not time to stress, it's still time to have some fun. I've just been enjoying my experience."
There is not a lot of time for Leonard to decide his path as free agency for the NBA begins on the 30th of June at 6 pm. However, that seems to have little bearing on Leonard, who stated,
"I'm going to take the right time. You don't need too many days to figure it out. We'll see what happens. Once that time comes, then we'll all lay the pros and cons out."
Leonard, at times, showed fatigue and physical soreness of playing two months of playoff basketball but refused to speak of it or what he had to go through to win his second Championship in the NBA. Commenting, Leonard stated,
"We're always battling through things. You know, knee pains, ankles, fingers. Everybody was just grinding it out."
In his final season with the San Antonio Spurs, Leonard was out with injuries for most of the season except or nine games. However, in his first season with Toronto, he played 60 games in the regular season and 24 in the post-season. Additionally, he increase the number of minutes he played and that added to the success and the Raptors winning the NBA Championship. Commenting, Leonard said he enjoy playing the season in Toronto and even enjoyed the Canadian weather adding,
"It was a good experience, experiencing Mother Nature, all four seasons. Man, it was a great experience. Everybody off the court was great. The fans, just meeting people in Canada. It's been fun."
On Monday, as Leonard was presented with the key to the city by Toronto's mayor John Tory, the crowd could be heard chanting 'Stay! Stay! Stay!' However, those celebrations were brought to a halt after gunfire erupted that saw a stampede as people sought to get to safety after four people were shot. The quick response by Toronto police led to the arrest of three people and the recovery of two guns.
As for the Toronto Raptors, the celebrations will be short lived as Danny Green, Marc Gasol and Kawhi Leonard all enter free agency, and each are key players who were instrumental in helping the organisation achieve success this season. In addition to that, Serge Ibaka, Kyle Lowry and Fred VanVleet, also key members of the team are going into the final year of their contracts. It is hopeful that the friendships that have been formed will help keep things as they are and fuel the desire to try to win back-to-back championship.
Serge Ibaka has become good friends with Leonard over the course of the season and stated that he has spoken a great deal during the regular and post-season and can see that Leonard is happy. Ibaka added,
" That's the most important. We play this sport because we want to enjoy and have fun and be happy and be somewhere people love you. I'm sure he feels that people here love him, and after this moment, that's the most important."