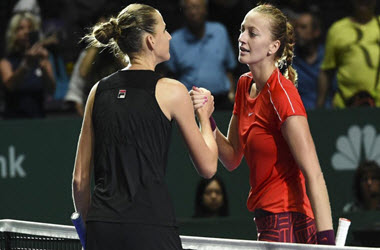 Karolina Pliskova, celebrated winning her group stage match after winning the first set eliminating Petra Kvitova from the WTA Finals after a second set win in Singapore on Wednesday.
Karolina Pliskova went on to become the first into the final four after beating Kvitova, 6-3, 6-4 in 83 minutes on Thursday, improving her record at the season-ending tournament to 2-1. It was the first victory for Pilskova over Petra Kvitova in their fourth meeting.
Pliskova said in on-court interviews after the match that,
"I knew I lost my other matches to her. I knew this time I had a chance because I was playing pretty well in my other two matches here. Everything is working well for me this week, so I'm just happy."
Elina Svitolina remained unbeaten in the other group match and advanced to the semifinals after beating, Caroline Wozniacki, the defending champion by 5-7, 7-5, 6-3. Kvitova went on to lead 3-0 in the second set, but Pilskova dominated and won six of seven games, while Kvitova ended the group with three straight losses. Kvitova said it was all about positive thoughts during post-match interviews adding,
"I still had a lot of positive thoughts in the match to fight and turn it around, even if it didn't happen. I still need to be fine because I still have the Fed Cup final against the United States coming up."
WTA
Czech Republic's Karolina Kvitova, the two-time Wimbledon champion, rarely loses to players from her own country and has won 27 of 29 matches played against opponents from Czech since the Madrid tournament. At this year's Charleston tournament in South Carolina, she suffered her only other loss to a player from Czech in that time period, which was to the twin sister of Pliskova, Kristyna.
Even though Svitolina only needed one set win to advance in the late match, she had to wait for it. Had Wozniacki pulled of the straight-set victory she almost pulled off, it would have given her the semifinals spot. But in the final game of the second set, she squandered two-game point followed by a backhand long point for Svitolina on the fifth-set.
Svitolina said on court that,
"It was an amazing match and a tough fight because Caroline always brings the best out of you. You have to push your limits against her."
Finishing with a 1-2 record, Caroline Wozniacki, felt she was the second best. Commenting, Wozniacki said,
"I played well in big parts of the match and I had chances in the second set to close it out, but it wasn't to be. I gave it my all and she just played better than me today."
Elina Svitolina believes her breakthrough into the semifinals will quiet the recent comments in social media suggesting she lost too much weight, and during post-match interviews, Svitolina said,
"It was not easy with all the things going on social media and opinions with my physique. This really shows that I'm getting mentally tough and that's what I've been working on really hard. I've learned there are thousands of opinions, millions of opinions and I need to just do my job."
Tennis punters should note that the semifinals will get underway on Saturday at the WTA Finals Singapore. Interested in placing a bet on who will walk away with the trophy? Then why not register with one of our leading online Canadian tennis betting sites today, claim a generous signup bonus, enjoy countless other promotions and support your place of choice. Register today, win today!