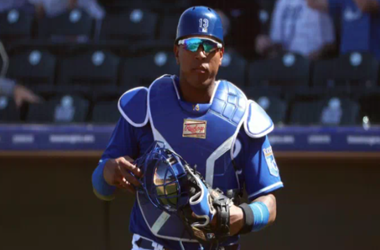 The Kansas City Royals announced during a media conference on Sunday that they have agreed to a four-year deal with Salvador Pérez. The contract, which will pay the all-star catcher a record $82 million, will take effect next season, will keep the four-time all-star with the club to at least 2025.
While the Kansas City Royals can opt to extend the contract by another year for an additional $13.5 million, for Perez, the contract is a humbling experience that had the Valencia, Venezuela catcher remembering growing up and practising with a broomstick. Those efforts paid off for Salvador Perez after he was signed professionally.
"It's hard to believe where I'm coming from, where I grew up, to see the situation I have right now, it makes me feel super happy. My mother is going to be happy. I know my grandma is going to be happy. I know they're excited for me to be here for four more years, maybe five."
Pérez, whose current contract pays him $13 million a season, will earn $18 million for 2022. That amount will jump to $20 million for 2023 and 2024 and $22 million in 2025. This deal is the largest ever signed by the Royals and surpasses the $72 million deal the Royals agreed to in 2016 when signing Alex Gordon.
MLB TV
During the press conference, Kansas City's general manager, Dayton Moore, spoke about the passion and value Perez brings to the organization. Adding to his comments, Moore stated,
"Nobody loves to play baseball more than Salvador Pérez. There are players that like it just as much but nobody loves it more. Nobody can imagine him not being here."
At 31, Pérez is considered one of the MLB's top catchers and one of the Royals organization's most loved players. In addition to being maned an all-star, Perez was voted the World Series MVP in 2015 and has won five Gold Gloves. After a season that saw the catcher hitting eleven homers and scoring 32 RBI's, the Royals are counting on the Salvadorian to be at his best and help the teams promising catchers to develop.
Addressing the clubs expectations, Moore said being a catcher is one of the more demanding positions in the game. Adding to his comments, More said,
"There are players that like it just as much but nobody loves it more. Nobody can imagine him not being here. It's hard, I think almost impossible, to win championships unless you have somebody behind the plate, somebody at the catcher position, that's a leader — that brings out the confidence in your pitching staff. And Salvy does all that."
It was clear that Kansas wanted to keep Perez with the organization after proving himself behind the plate. Perez has played in no less than 129 games over the past six seasons with the Royals and has a flawless record until sidelined with knee surgery during the 2019 season.
However, Perez returned in 2020 and recorded his best season to date, even though shortened due to the coronavirus pandemic. Commenting on the discussions and confidence in Perez, physical conditioning and work ethic, Moore stated,
"It's the same with everybody: You trust your medical people. Of course we talked about Salvy, but at the end of the day, they all signed off on it because they believe in his work ethic. They believe in the condition of his body. They believe in his heart and mind to play. He puts himself in a position to go out there every single day."
It helps that Perez is a favourite with John Sherman, the man behind the ownership group that purchased the club last season. In January, Sherman brought his management team together in Florida to begin working on the new contract, and that included Perez. The gesture was not lost on Perez, who stated,
"You know, they believe in me and what I do on the field, and all the fans in Kansas City, you know?"
In the past, the Royals had developed a reputation for being less than generous during contract talks and those they signed. However, the last two deals the franchise have signed suggest they have turned a page and are more willing to spend the money needed to put together a winning team.
That sediment rings true after the Royals also agree to two other multi-million dollar deals that will see Mike Minor earning $9 million a season for the next two years. Likewise, they also agreed to a two year deal that will pay Carlos Santana $8.75 million per two seasons. Moreover, the franchise kept busy bolstering their bullpen by resigning Wade Davis and Greg Holland.
For punters, this is sure to draw interest and increase confidence in the Royals intent to be contenders for the 2021 season. Whether this will see bookmakers increasing the number of MBL promotions they feature is anyone's guess, either way, with the season not far odd, punters have multiple welcome bonuses and free bet offers  at their disposal.
As for Salvador Pérez, he is happy and had zero desire to leave the Royals and expressed he wasn't interested in trying his hand as a free agent. After Sunday's announcement, it looks like he and the Royals both got their wish.