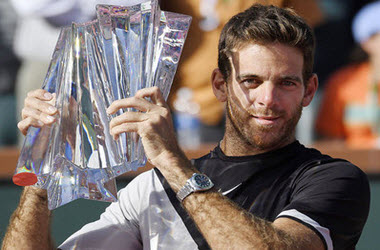 Roger Federer saw the end come to his best starting season since 2006 when Argentina Juan Martin del Potro became the first from his country to win a Masters event. Del Potro managed to save three match points in the final set while Federer was unable to put together the plays needed to give him his eighteenth straight win.
Commenting on his victory over Federer to the ATP, Del Potro dedicated the win to his recently passed away dog Cesar said,
"I'm so happy to win a title like this. I lost many finals in Masters 1000s but today was the day for me. I played unbelievable tennis, almost three hours, and beating Roger for the first time this year, that means a lot to me."
Del Potro, age 29, was successful in beating Federer at last September's U.S Open's quarterfinal, who is still recovering from a number of injuries, also had a win in Mexico earlier in the month. The Argentinian has battled a number of injuries since first defeating Federer in 2009 at the U.S Open, which was his first Grand Slam win. He missed almost all of the 2010 season due to wrist surgery.
The loss of the 2010 season saw Del Potro fall out of the top 400 in the world but managed to return to the top five in 2013. However, another injury to his wrist saw Del Potro having additional surgery and missing a large part of the 2014 and 2015 season.
Speaking on his BNP Paribas Open victory, Del Potro said,
"I cannot believe this moment, I always think about what I did in the past, trying to fix my wrist problems. I did, I'm playing tennis again and winning titles so I have a lot of things to celebrate and this trophy is one of them."
ATP
For Del Potro, it was his forehand that proved to be the secret weapon that gave him control over Federer and his eventual 6-4 first set win. The second set was tighter and was reminiscent of past matches between the two players.
A drop shot from Federer saw Del Potro chasing it down and sending a lob in return. Federer managed two more volleys to bring the crowd to their feet as Federer won the second set 7-5. The match then was off to a tie-breaking third set. Federer wasn't to be celebrating his second set win for long however as Del Potro challenged the Swede and that saw frustration build in Federer with him venting those frustrations to the umpire after he failed to put a second serve in the line by a foot. The third set was all Del Potro, who dominated a frustrated Federer winning 7-2 and claiming his first Masters 1000 title. While Federer will be licking his wounds over the loss, he will soon forget it as he heads to the next Master's event in Miami that gets underway next week.
Miami will be another hot spot for Federer, the returning champ,
"I think staying positive through the tough moments is really key, because you're always going to go through ups and downs in your career, or as a person for that matter. Not every day is sun shining.
Federer continued stating,
"I feel frustrated, you know, that I let an opportunity like this go by. Serving 40-15, any game I probably win — I don't know what the stat is — 90-something per cent. So it should sting, like you said, for a bit. The question is how long? It won't be long, but it's disappointing talking about a great match like this, losing, even though I was right there.
Federer also took his loss gracefully saying that he is happy for Del Potro and that he had a good week overall at Indian Wells and will see the positives from the event at the end of the day. Of course, whether his loss at Indian Wells will impact his play in Miami next week is anyone's guess, but suffice to say, tennis sports betting sites will certainly factor this into how the set odds in Federer matches. Considering the season the Swiss player is having, it is safe to say he will shake it off and move on.