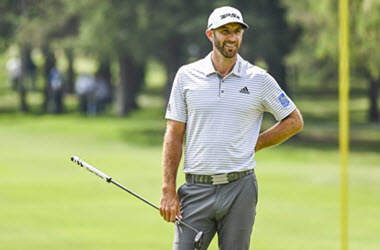 Dustin Johnson was continuing to lead the Mexico Championship on Saturday during the third round, that was until one shot that had him in a bad position, and the next made it worse.
At one point, Dustin Johnson was out front by six shots however two holes later, that lead was reduced to two after scoring a double bogey. Most would have panicked, Johnson, however, changed nothing and kept with the game plan.
The good news for punters favouring Johnson to win the Mexico Championship is he responded perfectly scoring bogies on the next two holes. He gained back two shots of the four he gave up, and that saw him ending the round in the lead by four shots going into the final round.
Johnson stated that he knew he was playing well and chose not to let it bother him adding,
"I felt like I was swinging good and I knew I could make quite a few birdies coming in. So it was one of those things where it was unfortunate, but I felt like I kept my focus and played really solid coming in."
The double bogey was the worst hole that Johnson has had during the tournament, and it was the last hole like it. The error put McIlroy back in the hunt, but with Johnson adding two more birdies over the remaining holes, McIlroy knew the final round would be tough. Commenting, McIlroy stated,
"It's going to be tough, especially against D.J., who is arguably the best player in the world. So I'm going to have to go out there and just play a good round of golf, and hopefully that's good enough."
PGA
Tiger Woods, whose hopes faltered on the green came within four shots of Johnson after his double bogey. He then hit his own double bogey on the 15th hole and repeated that on the 16th to sit 10 shots off the lead.
Johnson will now go into the final day ahead by four shots, and for golf bettors, that is important information. Especially when history has shown when Johnson goes into the final day ahead by three or more, he often wins. That can transcend into profits with sportsbooks such as Spin Palace Sports, and with lucrative signup bonuses up for grabs, registering today is a step in the right direction as the PGA season heats up.
However, there is little doubt that McIlroy will not put up a strong fight to shorten the lead, evident by his 35 ft. putt yesterday on the ninth hole and also by his skill using his flip wedge when facing a short range shot. McIlroy also has the experience to know things can change quickly commenting that,
"You can see how quickly things can change. D.J. hits it a little right on 10 and he makes double. It's easy to do that around here. So it's going to have to be a blend of aggression and patience."
McIlroy fought hard to stay close to Johnson but ran into issues of his own shooting multiple bogeys that put him behind by six. That included missing a three foot put putting his challenge against Johnson in jeopardy.
The commanding lead also made the challenge harder for everyone else, including Patrick Reed, a Masters champion who finished the round with three birdies and behind by seven shots. Reed commented that the final with be a special day adding,
" "I don't think 7 under is going to get it done. I'm thinking it's going to at least take 10 (under) to maybe even a 59 depending on how he finishes the day."
Johnson is the only player that has won each of the four World Golf Championships. If he wins tomorrow, he will earn his sixth World Golf Championships title, and that will make him a lifetime member of the PGA tour at only 34 years old. It will be an accomplishment few others can lay claim – he just has to win to earn that right.