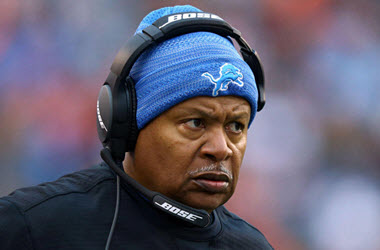 The Detroit Lions announced today that Jim Caldwell will not be returning as the head coach. While Caldwell has been one of the most successful Detroit Lion coaches, it wasn't enough to see the team keep him after failing for the third year to make the playoffs.
Martha Firestone Ford, the owner of the Detroit Lion, stated the Caldwell was
"one of the finest leaders we've ever had as our head coach."
Firestone continued with,
"Not only did he guide us on the field to three winning seasons, but he also set a standard of excellence off the field that had a tremendous impact on everyone in our organization and our entire community. As many of our players have already said, his influence on them transcended the game of football and will positively serve them throughout their lives. Our organization is better because of Jim, and we are forever grateful."
The irony of this is that Jim Caldwell had earlier signed a multi-year extension to his contract, yet Detroit chose not to announce their decision for months. Sunday saw the Lions win against the Green Bay Packers 35-11 and finished their season 9-7. This was the third season that ended with a winning season, which started off strong only to see the Lions loose three straight and put them out of playoff contention.
For Caldwell's part, he had a record of 36 wins and 28 losses with the team. When adding his record with the Colts, the coach has a 62 win history against 50 losses and is 2-4 during the playoffs.
ESPN
When hired by Detroit, Caldwell, who has been with a franchise that only had winning season out of 13 stated
"We're going to be smart. We're going to be a football team that takes the field that's not going to shoot itself in the foot."
When it became evident that his job was on the line, Caldwell took it well insisting,
"That's part of our business, that's kind of the way it goes. That's every year, right? I told you guys a story a long time ago about Marty Schottenheimer. He got fired at 14-2. So anything less than a Super Bowl, obviously it could happen."
The reality is that Detroit has failed to make it to the Super Bowl since it won the title in 1957. Since that time, the team has only has a single playoff victory. Caldwell however has seen success in 2010 as during his first year as a head coach, took the Colts to the Super Bowl. He had a great start with the Lions, who scored eleven wins under his leadership in 2014, and that was Detroit's best season in over 23 years.
The same was true with seasons two and three for Caldwell and while season two saw a dismal 1-7 record, the team finished the season 7-9 overall, and season three ended with 9-7 under Caldwell's leadership. That made him the first coach at Detroit to winning seasons in three of his four years. Caldwell's strength is he leads with respect and not by yelling. He further strengthens his leadership by taking an active interest in their lives, both on the field and off.
Detroit receiver Marvin Jones stated,
"I love Caldwell, I've been here for two years and he's the best coach I've ever had. Everybody is quiet two minutes before his meetings because he demands respect without yelling. He doesn't yell at all. You never want to disappoint him. We just had to make more plays for him."
Who will take up the open head coach position at Detroit is yet to be determined, but clearly this is an unsuccessful franchise overall, and this may be a factor in their ability to attract top talent. With the NFL gearing for the final push before the Super Bowl, live sport betting will undoubtedly be high on the agenda for sports enthusiasts, and with predictions favoring the New England Patriots and Pittsburgh Steelers, sportsbooks are expecting to see demand for live betting to be high.