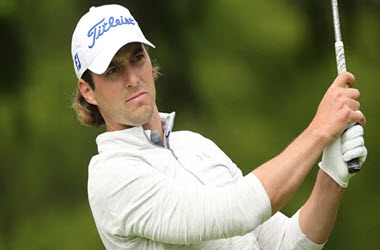 Canada's James Allenby, who hails from Langley, British Columbia, ended round two of the Canada Life Open in the lead after shooting a career low of 9-under par 63 at the Point Grey Golf & Country Club on Friday.
This will see James Allenby starting round three with a lead over Jake Knapp by two strokes. The sponsor exempt tournament saw Allenby playing four different one day events in the lead up to the Open. He manages to set a course record during three of those and matched his own course record in another. That included Allenby shooting a 65 at the RBC Canadian Open qualifier, at the Sandpiper Golf Course he shot a 63 and at the Chilliwack Golf Club and Mission Country Club he shot 61. Commenting on his performance, Allenby said,
"It's a rhythm for me right now, it's all I can describe it as. It's not something that I think about, it's not on my mind, I just go out and continue doing what I'm doing. I'm putting really well and usually that's what it takes to shoot really low numbers."
The course at @PointGreyGolf is looking👌🏼with Round 2 of the @CanadaLifeOpen underway! @PGATOURCanada pic.twitter.com/6F2orcA1oi

— Canada Life (@canadalifeco) May 24, 2019
However, it was not only Allenby's putting that was on target on Friday during the season opener for the Mackenzie Tour, but it was his game as a whole. That is good news for punters wanting to place bets on the Open with leadsing Canadian sportsbooks such as 888Sport. Due to the modified back nine, Allenby started on the eleventh hole and shot 1 under on the first six holes. Allenby then kicked it into high gear and finished the next seven holes and sat at 7-under par. Before the day was complete, Allenby improved on his best Canada Life Open from 2013 by shooting a 63 and improving to 13-under for the week. Commenting, Allenby, who was once with the Oregon Ducks said,
"This is where you want to be. It's a lot of fun and there's still a lot of work to do, but hopefully I can keep this rhythm I have going and take it through to the finish."
Allenby is a seasoned veteran of the tour and has been active since 2009. He has, to date, played in 69 Mackenzie Tour events with his best year coming in 2012 when he finished in 18th place finish on the Order of Merit in 2012. Allenby also has placed in the top 25 sixteen times.
While he did play on the Latinoamerica PGA circuit, he had mixed results finishing 93rd. However, he has managed to find success recently playing mini-tours and since 2017, has earned nine victories. He is heading in the right direction but seems to still be searching for the opportunity to join the PGA Tour. Commenting on this, Allenby said,
"It's a grind, sometimes it's not fun, but I have to get myself out there. I have to give myself enough shots at getting on a tour somewhere, anywhere. It hasn't worked out for me yet so far, but I know it's there and I know the game is there, it's just a matter of time."
Whether Allenby is able to hold off Jake Knapp and retain the lead at the end of the third round is anyone's guess, but the race is close and Knapp only two shots behind, Allenby may himself fall to the younger player.