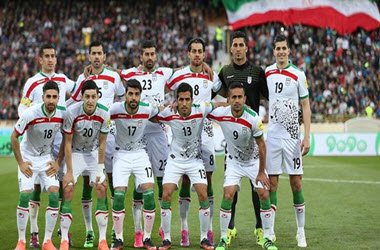 As the 2018 World Cup gets underway, Iran is facing more problems. After being picked to join one of the toughest groups in this year's tournament, Iran is now unable to wear their favourite soccer shoes due to sanctions by the United States.
Iran's coach, Carlos Queiroz, the longest to serve in the role, said that Iranian players have many hurdles to overcome in their first ever back-to-back World Cup appearances. As Iran is set to take the field in their first match against Morocco, Queiroz said,
"We do not allow these problems to become justifications, excuses. All these situations we've been facing, we have been using as an opportunity to develop and an inspiration to make our players stronger and full of will. We are sure that we have to be a family and keep united."
Queiroz, a former assistant coach with Manchester United and former coach for the Real Madrid, is a popular coach with fans of the sport in Iran. That popularity will only increase is he is successful in winning in a group that contains this year's favourites to win, Spain and Portugal.
When questioned about Spain's decision to terminate Coach Julen Lopetegui just days before the World Cup was to begin, Queiroz said he would not comment but was happy to discuss Iran's team. Queiroz has been open about the international exposure and their ability to arrange matches with other countries that the Iranian national soccer team does not get blaming it on the political landscape. The warm-up game against Greece that was scheduled in Istanbul for last month was cancelled at the last minute. The blame for this related to the on-going dispute between Turkey and Greece.
📸 Images from Iran's last training session at St. Petersburg Stadium before they face-off against Morocco tomorrow.#AllForTeamMelli pic.twitter.com/KtOnCY51eS

— PersianFootball.com 🇮🇷 (@FootballPersian) June 14, 2018
The cancellation irked the Iranian Soccer Federation who threatened to take legal action claiming the cancellation created damage to the Iranians teams' preparation for the World Cup. Kosovo was assigned as a replacement team, but they too pulled out.
To add further insult to injury, Nike refused to supply soccer shoes to Iran citing current United States sanctions that are active against Iran. This decision angered Queiroz who made his feelings known to FIFA.
Speaking about Nike's last-minute refusal to supply shoes, Queiroz said,
"Players get used to their sports equipment, and it's not right to change them a week before such important matches," he said. "We are using all of the hurdles as a source of inspiration."
It was a year ago today that Iran became the first team to qualify for this year's World Cup. After dismal showings in previous World Cup matches, it is hoping to improve on that record this year. With a reputation for strong defense, the Iranians only gave up two goals in the ten matches that played to qualify.
Queiroz knows his team has many young players who are adventurous and have many qualities in the attacking position and mid-field. He added that they will take when needed a defensive formation. As far as Queiroz is concerned, their first game against Morocco is a must –win.
As the World Cup heats up, sports betting sites such as 888 Sport has multiple promotions for those interesting in betting on World Cup matches. Now is the prime time to take advantage of the World Cup promotions to maximise your winnings. One of this is a 100% match bonus up to $250 for new players at the sports book. They also have special World Cup promotions such as a free bet whenever your team scores.