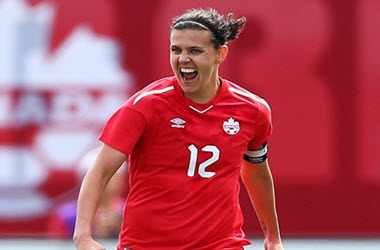 Canadian soccer icon Christine Sinclair made history today in Edinburg, Texas after scoring her 185th goal in international competition at the CONCACAF Olympic qualifying tournament against St. Kitts. The goal puts Christine Sinclair in the records books as the women's leading all-time scorer.
In doing so, breaks the record set in August of 2019 by the now retired American Abby Wambach. Canada, whose 11-0 win over St. Kitts was a solid accomplishment, the historic goal for Sinclair was not lost on past teammate Carmelina Moscato, who commented the feat was unimaginable, adding,
"It's unfathomable to think it's on the men's and women's side. Sometimes I have to remind myself that it's void of gender… It's her life's work that's now going to get her the recognition she deserves."
This accomplishment was one that Christine Sinclair has been working towards since her first appearance for Canada in 2000 as a sixteen-year-old, and the first goal towards that crowning achievement was scored against Norway only two days later during the Algarve Cup.
Concacaf
Since that time, the Canadian soccer legend has been consistently scoring goals and is one of the best in the sport. In her 20 years representing Canada she has scored an average of nine goals a year, including 11 times during the Olympics
As a soccer player, Sinclair's record speaks for itself with five World Cup appearances, two NCAA Championships, and two MAC Hermann Trophies, one in 2004 and the other in 2005. Sinclair also holds the record in the NCAA for scoring 39 goals in one season, is a recipient of the Lou March Trophy, has two bronze Olympic medals, is an Officer of the Order of Canada and has a star on Canada's Walk of Fame
Sinclair's teammates hold her in the highest regard and strongly feel she deserves to be seen as one of Canada's greatest all-time athletes. Commenting on her achievements and her accomplishments in and for the sport, Carmelina Moscato stated,
"Christine has been amongst the upper echelon of Canadian athletes. What she has done to sports for Canadians is given us memories that we'll never ever forget. Obviously, the Olympics stand out, but just her consistency over the years – a top goal scorer, always comes through for the team."
Mascato added that as a player, Sinclair is always focused on what she wished she'd achieved versus what she already has. There is no doubt that the B.C native has been an icon in the sport and with her 185th goal, is now part of Canadian sports history. Sharing Mascatos praise, Kaylyn Kyle, another past teammate said,
"She's the Wayne Gretzky of female sports in Canada. For me, Christine Sinclair epitomizes what a true Canadian is and what an athlete should look like. She has come in, taken a struggling program, put it in on her back, and we've been on two podiums because of her. She'll say it was it was a team effort. It wasn't. It was Christine Sinclair, and we just followed her."
Like many others, Kaylyn Kyle idolized Sinclair while growing up and remembers watching with the Canadian captain playing during the FIFA U-19 Women's World Championship the year it was held in Edmonton. It was a championship that ended with Canada finishing in second and Sinclair scoring ten goals in a performance that earned her the Golden Ball and Golden Shoe as the tournament's MVP. Commenting on the memory, Kaylyn Kyle stated,
"I remember watching how she played, and her movement on and off the ball, and how she carried herself. That made me want to play for the national team, which, as a little girl from Saskatchewan, I didn't think was ever possible. After that tournament, I knew it was possible."
Fellow teammate Ashley Lawrence, who has been a defender with the Canadian team since 2013 also remembers Sinclair fondly in her younger days. Commenting, Lawrence stated,
"I know myself growing up I looked to the national team, but she was at [the] forefront for scoring goals and helping put Canada on the map. I think that she does such a great job inspiring others by leading by example. Now being a part of the team, she continues every day to be an example, putting in the time, putting in the work, and it just seems so effortless."
However, while praised across Canada for her skills on the field and her many achievements, on the global stage, Sinclair is often left out of the conversation when it comes to top women in the sport of soccer. For many past and present teammates, it comes down to prejudice towards Canada, a belief that is evident by the fact Sinclair has not once been won the FIFA Player of the Year award, one she rightfully has deserved multiple times.
While addressing the lack of credit directed towards Sinclair, Kaylyn Kyle while speaking to the media noted that not once has Sinclair made the final three nominees and when one looks at the list of top female players, Sinclair's name is absent. The justification and lack of recognition is clearly an insult towards Sinclair, but also Canada and Canadian athletes.
Sinclair has performed at the top of her game for years including one year where amassed 23 goals over the course of 22 games but still failed to make the shortlist. Part of her problem is her ability to blend in and go unnoticed, and while she may not have a dominating pressed as some other women players so, her traits speak for themselves. Those will carry her through life after soccer, but for now, history has been made. That is what matters for Sinclair, the National Team and Canada. The reality is, the rest of the world can choose to ignore it, but they do so knowing who the real champion is.