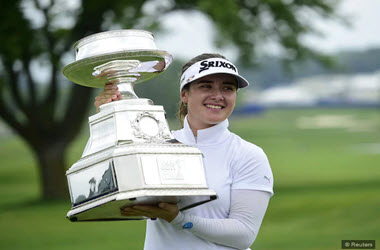 Facing what she hoped would be her final putt at the KPMG Women's PGA Championship, Hannah Green nervously took her position, all that stood between her and her first LPGA Championship was five feet.
As Hannah Green watched in anticipation, her putt was on point, and with it, the chance to lay claim to victory and the pleasure in knowing that her efforts paid off, not just personally, but also as a thank you for the efforts of Karrie Webb, a seven-time major champion and member of the Hall of Fame.
Webb was one of those responsible for starting a scholarship program in Minnesota for young Australian amateurs so that they could experience and learn from being on hand during a major event. One of those that participated in the scholarship program was Hannah Green, and now, she is a champion.
Green, who is ranked 29th in the LPGA has had four top ten finishes, held her own straight through to the end. She hit a 16th hole birdie before dropping the ball into the bunker on the 18th, but it was enough to finish one stroke ahead of Sung Hyun Park, the defending champion. Green, who is playing in her second year on the tour stated,
"I can't believe I'm in this position right now. I've always wanted to win an event, and to win a major championship as my first is crazy."
LPGA
The race between Green and Hyun Park was the closest since 2011 and considering Park, ranked no. 2 in the world is more experienced with six career victories, it is quite an achievement. Green began the round one shot above Ariya Jutanugarn, and with Jutanugarn failing to hit a single birdie, it gave room for Park to move into the second spot and make a challenge for the lead but failed in that challenge.
Webb, who was watching from the sidelines roomed with Green throughout the week with two other recent winners of the scholarship program, Grace Kim and Becky Kay. Commenting on the experience, Webb said,
"I feel like I won a golf tournament today I'm so excited for her. You didn't do it yourself, but you supported someone who realized that dream."
After Green sunk her final putt, Webb, Kim and Kay rushed the green to join in the celebrations. While it is tradition in the LPGA to spray winners with water, in classic Aussie tradition, the girls sprayed Green with cans of beer.
Green earned her card into the LPGA after winning three events during the 2017 Symetra Tour. Sunday's win puts her as the first Aussie on the LPGA tour to win a major since Webb did in 2006. Speaking on the achievement, Green, who finished the tournament 9-under 279, stated,
"I'm speechless. I was really nervous playing the last five holes."
It was no easy task but was one that saw Green never giving up the lead, and her efforts were rewarded not only with the win but a $577,500 payday. The LPGA Tour now moves onto Walmart NW Arkansas Championship from the before heading to the Thornberry Classic in Wisconsin.